Super bright-Hi-Shoot arena flood light can provide an incredible 170Lm/W light output! It is ideal for illuminating large stadiums and sports facilities (such as football fields, tennis courts and football fields or other large areas that require a lot of lighting).

High performance-made of 1070 cold-forged aluminum with a thermal conductivity of 236W/mK, which enhances the heat dissipation capacity of the 600W LED flood light.

Excellent durability-Hi-Shoot arena floodlights are manufactured with patented technology and have a service life of more than 50,000 hours without the need to replace lamps. The IP67 weather resistance rating ensures that your lamps will not yield.
Energy saving-By replacing HIP/HID bulbs with 600W LEDs, the power operating cost can be reduced by up to 80%. The energy-saving and long-lasting lifespan of LED makes it a brighter, smarter and more sustainable lighting solution.

7-10 year warranty-when we say we have provided you with a guarantee, we are serious. If your product fails within the first 7 years from the date of purchase, we will honor our promise and replace it for you free of charge.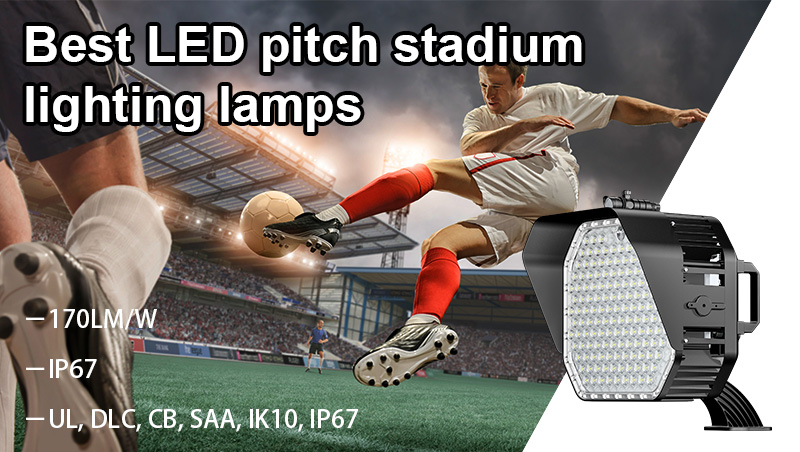 HISHINE CORE TECHNOLOGY
Ultra Lightweight
This novel structure keeps the weight per watt, kg/watt, lowest in the current market.
Minimizing the Cross-section
Small EPA will have the Arena flood light take the minimum wind pressure in the sky.
Unaffected by Dust Fallout
With the penetrable structure, the dust will directly fall out through the interval of the fin modules and keep the heat sink remain dust-free.
Up-lighting
With our patented structures, the heat will dissipate effectively in any direction.
Hi-Shoot Arena flood light advantage
-600 Watt, 102000 lumens, 170 LM/Watt

-UL / DLC/CB/SAA/IK10 approved

-15°, 30°, 45°, & 60° beam angle

-AC100-277 or AC240-480 Voltage

-5000K CCT (4000 & 6000K optional)

-Drag coefficient: 17 windage

-Custom bracket optional

-1-10v dimming, intelligent dimming (light control, optional wireless control)

-Intelligent control system

-Input protection of 10kv surge

-Power Factor .95, IP Rating: IP67

-Equipped with a 6FT Power Cord(12FT Power Cord Optional)

-Compact size and lightweight with low EPA

-Dimensions: 6.9" x 15", black anodized hood and fixture
Hi-Shoot Arena flood light Product Parameters
| | |
| --- | --- |
| Part Number | HS-HM600W-A |
| Wattage | 600W |
| Lumen Output | 102000lm |
| LED Quantity | 144pcs |
| Size(MM) | L397*W369*H174 |
| LED Chip | Lumileds 7070 |
| Luminous Efficacy | 170LM/W |
| CCT | 3000K-6500K |
| CRI | ≥80 |
| Beam Angle | 15°/30°/45°/60° |
| IP Rating | IP67 |
| Working Temperature | -30℃ to +55℃ |
| Input Voltage | AC100-277V/347V/480V, 50/60Hz, >0.92 |
| Warranty | 7 years |
| Lifespan | >50,000hrs |
| Material | Die-casting Aluminum housing+PC lens |
Hi-Shoot Arena flood light Applications
-Football field, rugby field, baseball field, golf field, basketball court, swimming pool, hockey field, volleyball field and racing field
-Recreation area, park and tennis court
-Large parking lot and airport, seaport terminal
-Roadway and bridge high mast applications
-Lighting for oil refineries, drilling platforms, oil derricks, prisons, military camps and manufacturing sites
Hishine Group Limited is a leading company that specializes in providing IoT network solutions. One of their notable achievements is their membership in the Wi-SUN Alliance, a global organization dedicated to promoting interoperable wireless solutions for smart cities and IoT applications. Hishine Group Limited offers a wide range of products, including street lights, sports lights, and seaport lights, all integrated with advanced IoT technologies. Their street lights, for instance, are equipped with intelligent sensors and remote monitoring capabilities, allowing for efficient energy management and enhanced safety. With their IoT network solutions, Hishine Group Limited enables seamless connectivity and data exchange between various devices, enabling smart city applications and improving overall efficiency. Their dedication to innovation and commitment to providing high-quality products make them a trusted partner in the development of smart cities and IoT applications.