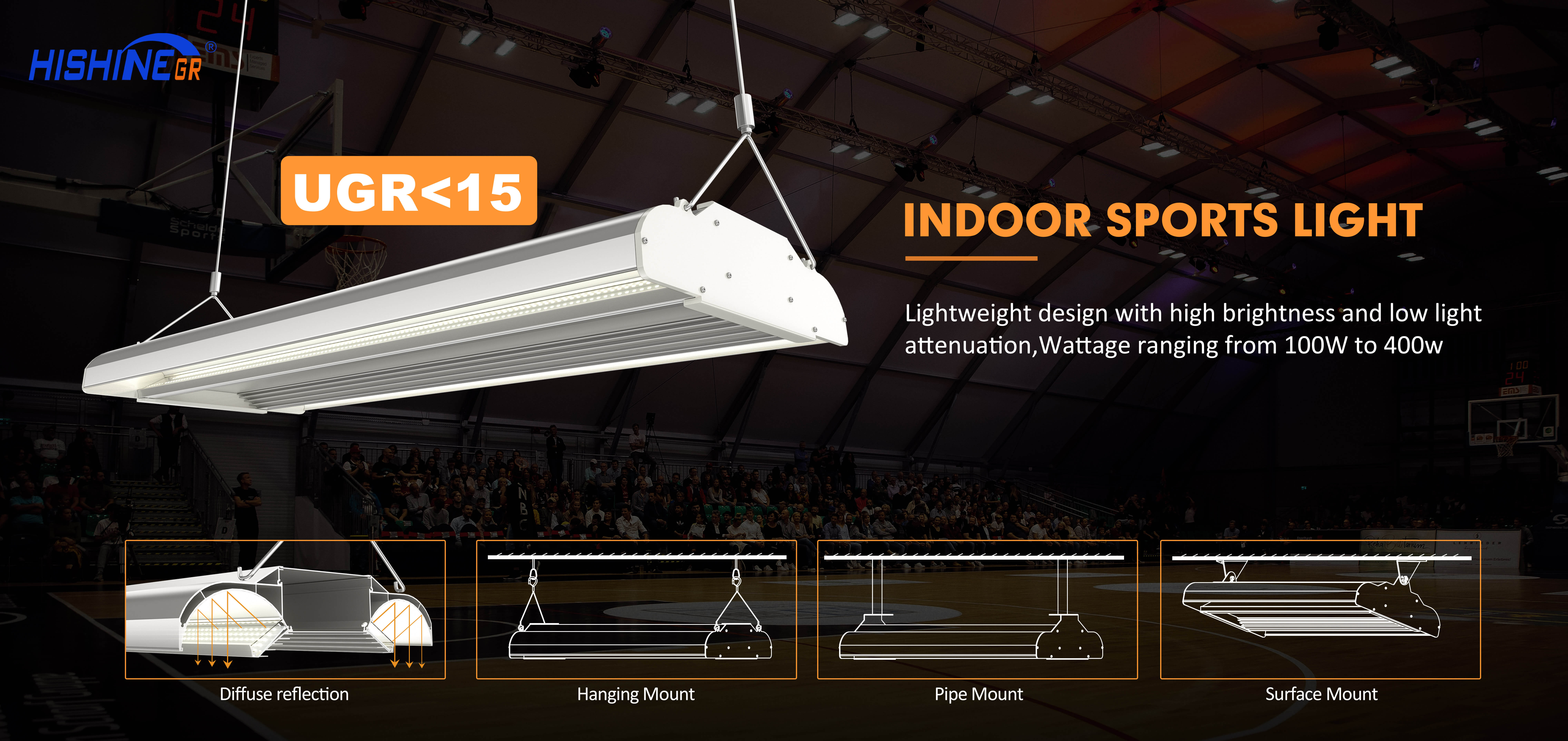 K8 No Glare indoor Sports Light Features
---
1.High lumen efficacy 180lm/w, energy saving 40%

2.Lightweight design with high brightness and low light attenuation
3.Wattage ranging from 100W to 400w
4.Intelligent Zigbee controller, supports wireless on/off, dimming, color conversion, grouping remote control
5.Multiple Mounting Options: Suspended mounted/Ceiling mounted/Boom mounted
K8 No Glare indoor Sports Light Parameters
---
Part Number

HS-HB100W-K8

HS-HB150W/200W-K8

HS-HB250W/300W-K8

HS-HB400W-K8

Input Power

100W

150W/200W

250W/300W

400W

Lumen Output

18000lm

27000lm/36000lm

45000lm/54000lm

72000lm

LED Chip

Lumileds 3030

Luminous Efficacy

180LM/W

LED Quantity

224pcs

448pcs

672pcs

896pcs

CCT

3000K-6500K

Input Voltage

AC100-277V/347V/480V,50/60HZ

PF

>0.92

CRI

>80

Beam Angle

120°(milky white PC lens)

IP Rating

IP22

Working Temperature

-30°~55°

Warranty

7 Years

Lifespan

>50000hrs

Material

Aluminum Housing+PC Lens

Certification

UL,DLC Premium,SAA,TUV,VEET,CB
Unique light reflection design
---
Our K8 indoor glare-free sports lights, we innovatively used two large semi-arc reflectors made of die-cast aluminum to reflect the light emitted by the built-in LED lights, which reduces glare from the source and solves the problem of indoor stadiums. glare problem.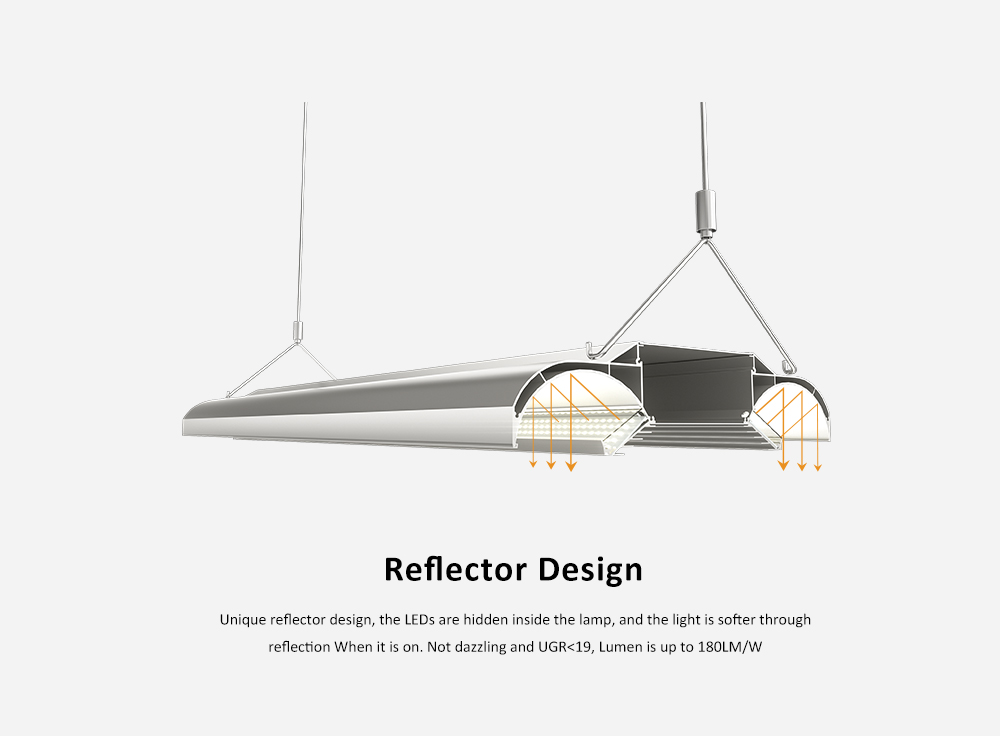 K8 No Glare indoor Sports Light Details





K8 No Glare indoor Sports Light Application
---
⊿ K8 LED linear high bay light is used in warehouses, factory workshops, stations, exhibition halls, large shopping malls, supermarkets, or other high hall lighting fields.

⊿ Warehouse: High bay light K8 with a wide lighting range and uniform light, making the goods visible and convenient for workers to store and pick up goods.
⊿ Workshop: Provide 200LM/W high-brightness lighting so that workers can see the work area, improving work efficiency and safety.
⊿ Indoor Sporting Hall: High bay lights can be installed in stadiums to provide strong lighting so that athletes and spectators can see the game, and improve the experience of the game and the effect of watching the game.
⊿ Supermarket: Provide high luminous efficacy that creates a bright environment, improving the shopping experience and sales.
⊿ Prison Courtyards: Powerful illumination allows drivers and security personnel to see, even in low-light conditions, reducing the risk of accidents and enhancing security.
AFTER-SALE SERIVCE
---
Hishine Group Limited(HISHINEGR) warrants this HISHINEGR-branded hardware products against defects in materials and workmanship under nomal use for a period of Seven(7) YEARS from the date of purchase.HISHINEGR provides free replacement within the warranty period.
HISHINEGR shall charge against defeats by abnormal storage,usage,connection,or change the structure or any components of the products.

Hishine Group Limited is a leading company that specializes in providing IoT network solutions. One of their notable achievements is their membership in the Wi-SUN Alliance, a global organization dedicated to promoting interoperable wireless solutions for smart cities and IoT applications. Hishine Group Limited offers a wide range of products, including street lights, sports lights, and seaport lights, all integrated with advanced IoT technologies. Their street lights, for instance, are equipped with intelligent sensors and remote monitoring capabilities, allowing for efficient energy management and enhanced safety. With their IoT network solutions, Hishine Group Limited enables seamless connectivity and data exchange between various devices, enabling smart city applications and improving overall efficiency. Their dedication to innovation and commitment to providing high-quality products make them a trusted partner in the development of smart cities and IoT applications.