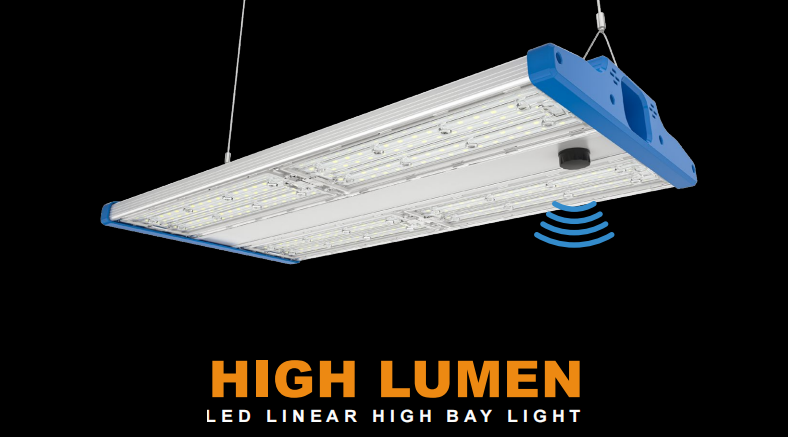 Led high bay lights are suitable for workshops, factory warehouses, arenas, etc. It is an important part of urban lighting, the best choice for energy-saving transformation of traditional industrial plants, and it is also the general trend. Hishine K7 LED linear lights can reach 200LM/W, and the K7 series lights were made by slim Die-casting aluminum and those lights have excellent cooling performance.
LED K7 Linear Light Fetures
1.High luminous output 200LM/W, energy saving 50%
2.Power range: 100W/150W/200W/250W/300W/400W/500W/600W
3.Snap-in type lens, labor cost saving and easy replace
4.Customized color of housing supported
5.Intelligent control: infrared remote control, Zigbee, Bluetooth Mesh, high-altitude microwave sensor, infrared light sensor, Zigbee version supports heat map, supports light decay compensation
6.Multiple Mounting Options: Suspended mounted/Fixed ceiling mounted/Boom mounted
Part Number

HS-HB100W/150W/200W-K7

HS-HB250W/300W/400W-K7

HS-HB500W/600W-K7

Wattage

100W/150W/200W

250W/300W/400W

500W/600W

Lumen Output

20000lm/30000lm/40000lm

50000lm/60000lm/80000lm

100000lm/120000lm

LED Chip

Lumileds 3030

Luminous Efficacy

200LM/W

LED Quantity


224pcs/224pcs/448pcs

448pcs/448pcs/896pcs

1344pcs

CCT

3000K~6500K

CRI

>70

Beam Angle

120o

IP Rating

IP22

Working Temperature

-30o~55o

Input Voltage

AC100~277V/347V/480V,50/60HZ,>0.92

Wattanty

7 Years

Lifespan

>50000hrs

Material

Aluminum housing+PC lens
K7 LED High Bay Light Intelligenct Control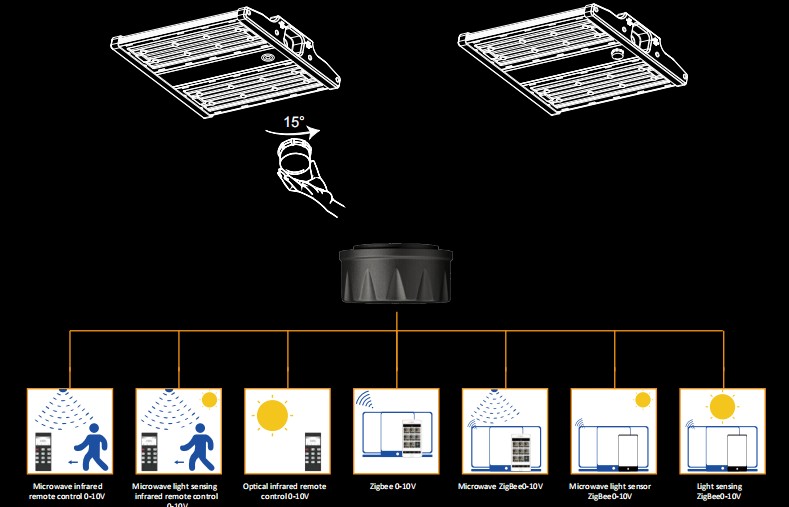 Multiple Mounting of K7 LED Linear Light

K7 LED Linear Light Size Chart


K7 LED Linear Light Application
Warehouses, libraries, workshops, shopping malls, supermarkets, shops, restaurants, sports centers, cinemas, hospitals, clothing stores, bars and other indoor lighting places.

AFTER-SALE SERIVCE
Hishine Group Limited(HISHINEGR) warrants this HISHINEGR-branded hardware products against defects in materials and workmanship under nomal use for a period of seven(7) YEARS from the date of purchase.HISHINEGR provides free replacement within the warranty period.
HISHINEGR shall charge against defeats by abnormal storage,usage,connection,or change the structure or any components of the products.
Hishine Group Limited is a leading provider of IoT network solutions, specializing in street lights, sports lights, and seaport lights. As a member of the Wi-SUN Alliance, Hishine Group Limited is committed to delivering innovative and reliable IoT applications for smart cities. With their expertise in street light technology, Hishine Group Limited offers comprehensive solutions that integrate seamlessly with existing infrastructure, enabling cities to optimize energy consumption and enhance public safety. Their IoT network solution allows for remote monitoring and control of street lights, ensuring efficient operation and timely maintenance. Moreover, Hishine Group Limited's sports lights and seaport lights are designed to meet the specific requirements of these environments, providing high-quality illumination and ensuring the safety of athletes and seafarers. With a strong focus on sustainability and technological advancements, Hishine Group Limited continues to revolutionize the lighting industry and contribute to the development of smart cities worldwide.