K3 Linear High Bay Light has a special structure and good heat dissipation. It is more suitable for certain places such as warehouses, shops. LED linear overhead energy saving, so you don't need to worry about electricity bill. Generally, linear ceiling lights have a long and narrow rectangular distribution, and therefore only cover areas where light is needed to reduce wasted lighting.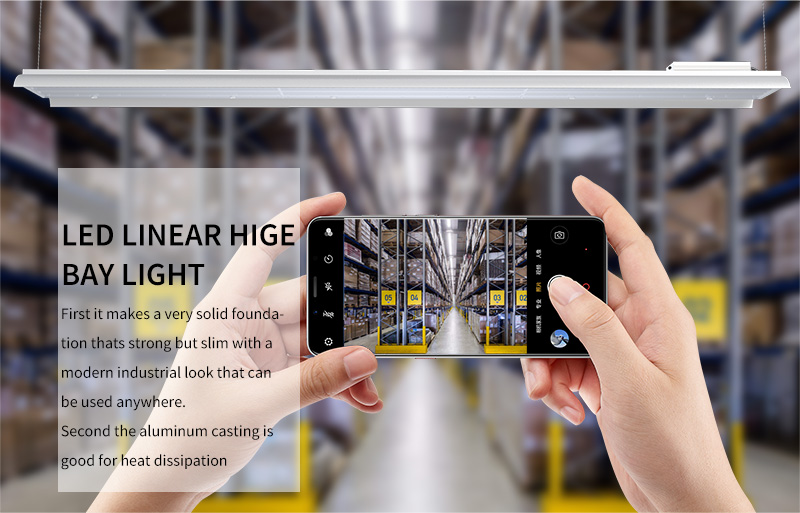 K3 LED Linear High Bay is designed for aisle in warehouse, generating rectangular lighting pattern perfectly complied with shape of aisles.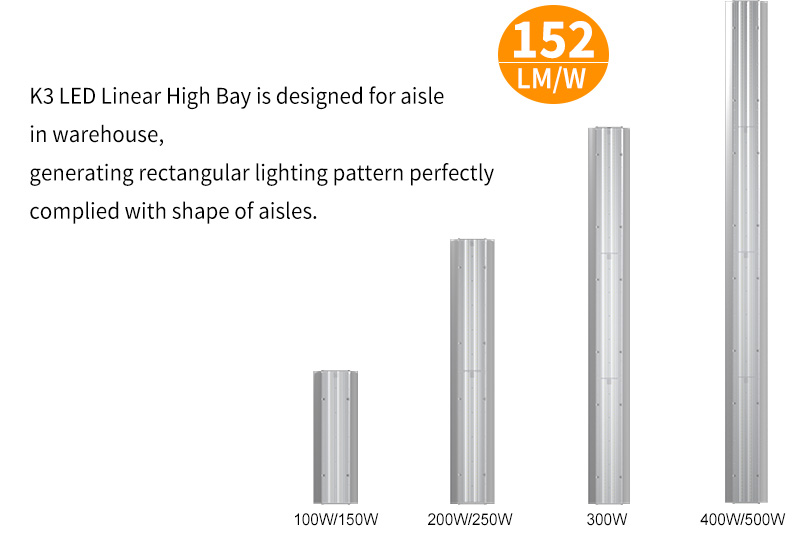 K3 LED Linear High Bay Light Product Specifications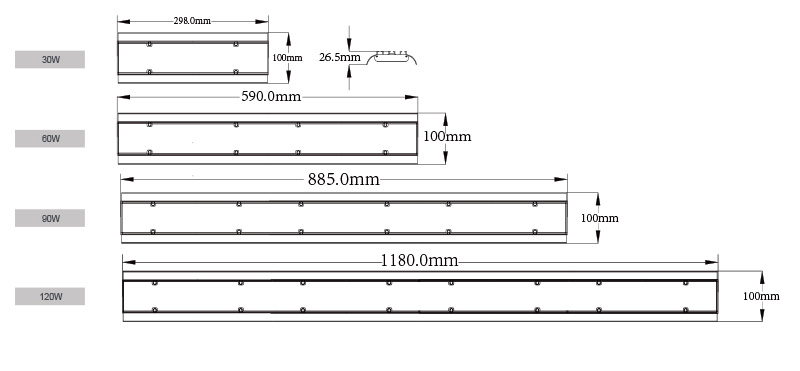 K3 LED Linear High Bay Light Product Parameters
Part Number

HS-HB30W-K3

HS-HB60W-K3

HS-HB90W-K3

HS-HB120W-K3

Wattage

30W

60W

90W

120W

Lumen Output

4560lm

9120lm

13680lm

18240lm

LED Quantity

49pcs

98pcs

147pcs

196pcs

Size(MM)

L298*W100*H26.5

L590*W100*H26.5

L885*W100*H26.5

L1180*W100*H26.5

LED Chip

Lumileds /Cree

Luminous Efficacy

152LM/W

CCT

3000K-6500K

CRI

≥80

Beam Angle

30°/60°/90°,Asymmetric 25°/30°

IP Rating

IP44

Working Temperature

-30℃ to +55℃

Input Voltage

AC100-277V/347V/480V, 50/60Hz, >0.92

Warranty

7 years

Lifespan

>50,000hrs

Material

Die-casting Aluminum housing+PC lens
K3 Linear High Bay Light Light source Two side cover avoid light leaking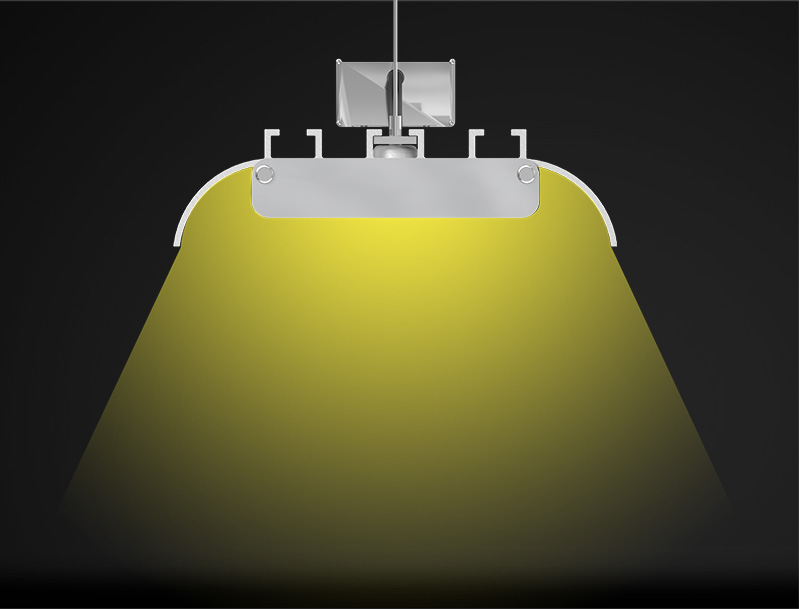 K3 Linear High Bay Light Light Distribution Optional
Various beam angle 30°/60°/90° options, and asymmetric 25°/30°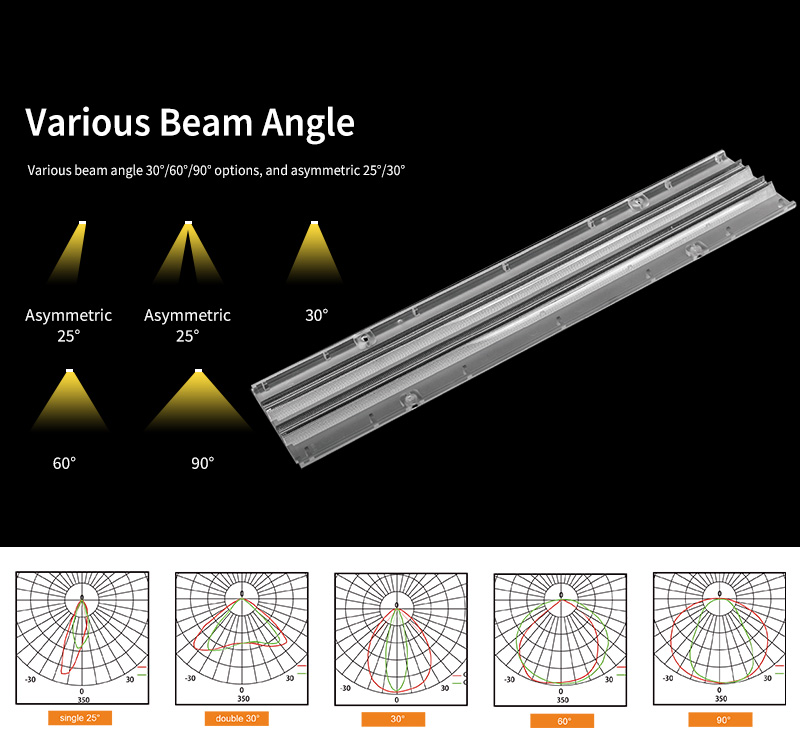 K3 Linear High Bay Light Multiple Mounting Options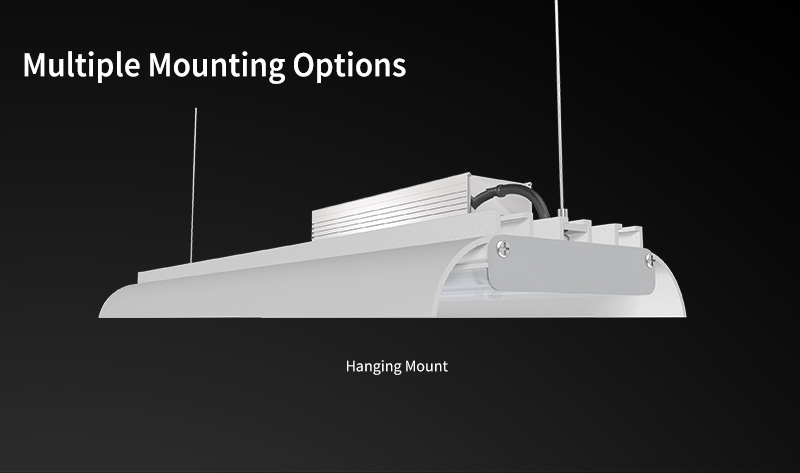 K3 Linear High Bay Light Applications
Widely use in workshop,factory, warehouse,stadium,exhibition hall,supermarket,court,etc.
Hishine Group Limited is a leading company that specializes in providing IoT network solutions. One of their notable achievements is their membership in the Wi-SUN Alliance, a global organization dedicated to promoting interoperable wireless solutions for smart cities and IoT applications. Hishine Group Limited offers a wide range of products, including street lights, sports lights, and seaport lights, all integrated with advanced IoT technologies. Their street lights, for instance, are equipped with intelligent sensors and remote monitoring capabilities, allowing for efficient energy management and enhanced safety. With their IoT network solutions, Hishine Group Limited enables seamless connectivity and data exchange between various devices, enabling smart city applications and improving overall efficiency. Their dedication to innovation and commitment to providing high-quality products make them a trusted partner in the development of smart cities and IoT applications.