The best lighting solution for tennis courts
When lighting a tennis court lighting, the objective is to ensure good visibility enabling both participants and spectators to follow the progress of a game. The ball, regardless of its location and speed, should always be clearly visible. Creating good visibility requires sufficient contrast to be created between objects and their backgrounds, good illumination levels and even distribution of light across the playing surface (uniformity). It is important to note that lighting design and installation requires specialist engineering knowledge and must be carried out by competent experienced professionals following the guidelines required by government or any other relevant authorities. Hi-Robot led light for tennis court launched by Hishine solves the lighting The problem.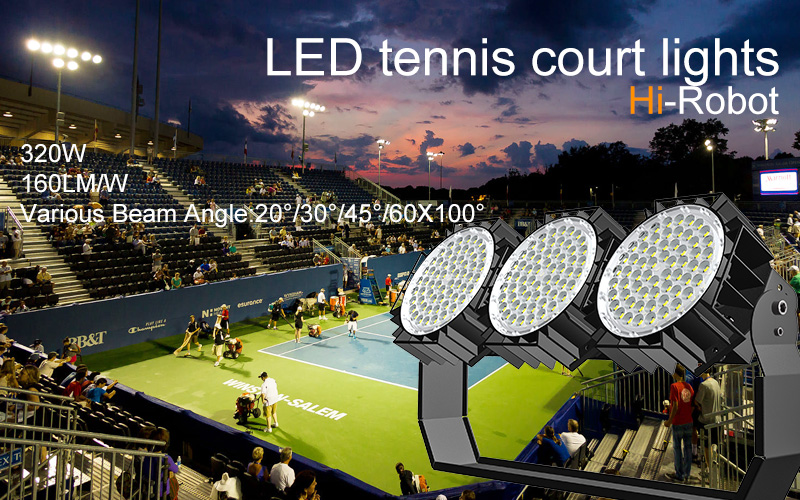 Hi-Robot LED tennis court lights Product Specifications

When planning a lighting installation, the following general design issues should be considered:
– The intended standard of play – this will govern the dimensions of the courts, the level of illumination, uniformity, etc.
– Relevant government requirements and permissions in force locally.
– Installation and running costs, including maintenance, heating or cooling and light source replacement.
– Access to and the cost of a suitable power supply.
– General everyday maintenance including cleaning and repair lighting units.
– The effects on others of spill light.
Lighting standards ( Outdoor)
Some National Associations and governments have set different requirements for indoor or outdoor lighting and may use different units of measurement. However, as a guide, the following shows the minimum standards according to the European Standard for Sports Lighting, EN 12193:2008 where:
– Class I: Top-level national and international competitions (non-televised) with requirements for spectators with potentially long viewing distances.
– Class II: Mid-level competition, such as regional or local club tournaments. This generally involves medium-sized numbers of spectators with average viewing distances. High-level training may also be included in this class.
– Class III: Low-level competition, such as local or small club tournaments. This does not usually involve spectators. General training, school sports and recreational activities also fall into this class.
( Note: Lighting requirements for ATP, WTA and Davis Cup World Group and Zonal Group I competition is different, click here to check detail)

Lighting standards ( Indoor)

Key Features Of Hi-Robot LED Sports Light
1. 160LM/W high level of lighting efficient
2. LED illumination ranging from 320W to 1300W
3. The unit features with hexagon design that minimizes wind load
4. Each model operate seperately, easy to maintenance
5. Multiple optice option. including 20°/30°/45°
6. Typhoon 12 resistance
7. Rugged die-cast aluminum adjustable bracket that can be horizontal or vertical mounted
Hi-Robot LED tennis court lights Product Parameters
| | |
| --- | --- |
| Part Number | HS-HM320W-A |
| Wattage | 320W |
| Lumen Output | 51200lm |
| LED Quantity | 180pcs |
| Size(MM) | L690*W230*H75 |
| LED Chip | Lumileds 5050 |
| Luminous Efficacy | 160LM/W |
| CCT | 3000K-6500K |
| CRI | ≥80 |
| Beam Angle | 20°/30°/45°/ |
| IP Rating | IP67 |
| Working Temperature | -30℃ to +55℃ |
| Input Voltage | AC100-277V/347V/480V, 50/60Hz, >0.92 |
| Warranty | 7 years |
| Lifespan | >50,000hrs |
| Material | Die-casting Aluminum housing+PC lens |
Hi-Robot LED tennis court lights Lens And Beam Angle

Hi-Robot LED tennis court lights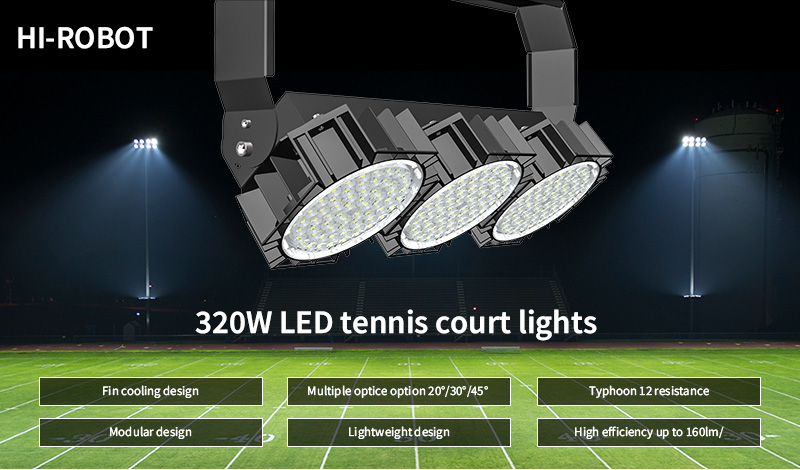 Hi-Robot LED tennis court lights Withstand wind
Install our 320W LED tennis court light Fixtures Can withstand hurricanes of Typhoon 12 resistance.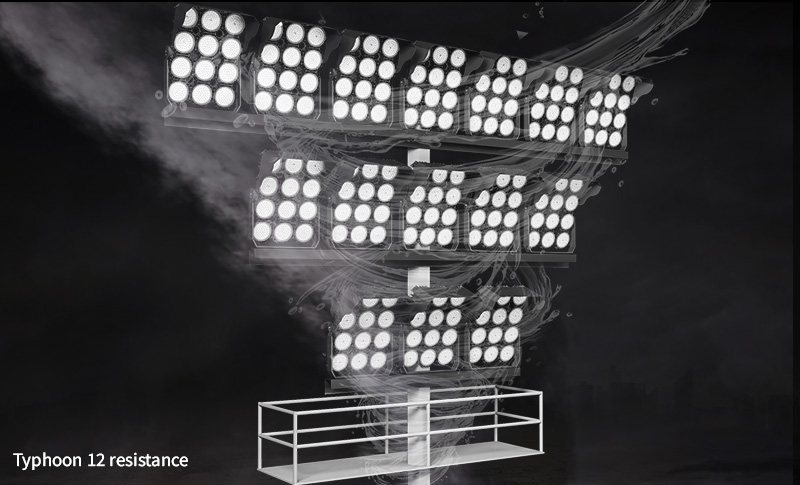 Hi-Robot LED tennis court lights Multiple Mounting Options

Hi-Robot LED tennis court lights External Drivers
If you want to improve the lighting level but worry the light poles load bearing. Our HI-ROBOT can solve the problems and our engineers have a solution of external and centralized power supply.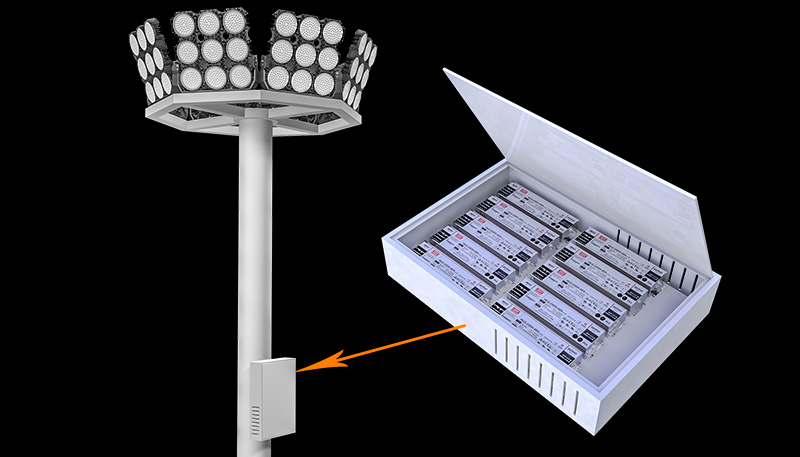 Hi-Robot LED tennis court lights Applications
Applied to stadium lighting, golf course and tennis courts, running track, badminton, roads, football, basketball, tower lights, football, horse racing, baseball field and so on. It can also be used in large squares, airports, commercial buildings, construction projects, farms, amusement parks, parking lots, ports, industrial buildings and other special lighting environments.