Hi-Rise Ultra Slim Heat Sink Design LED Street Light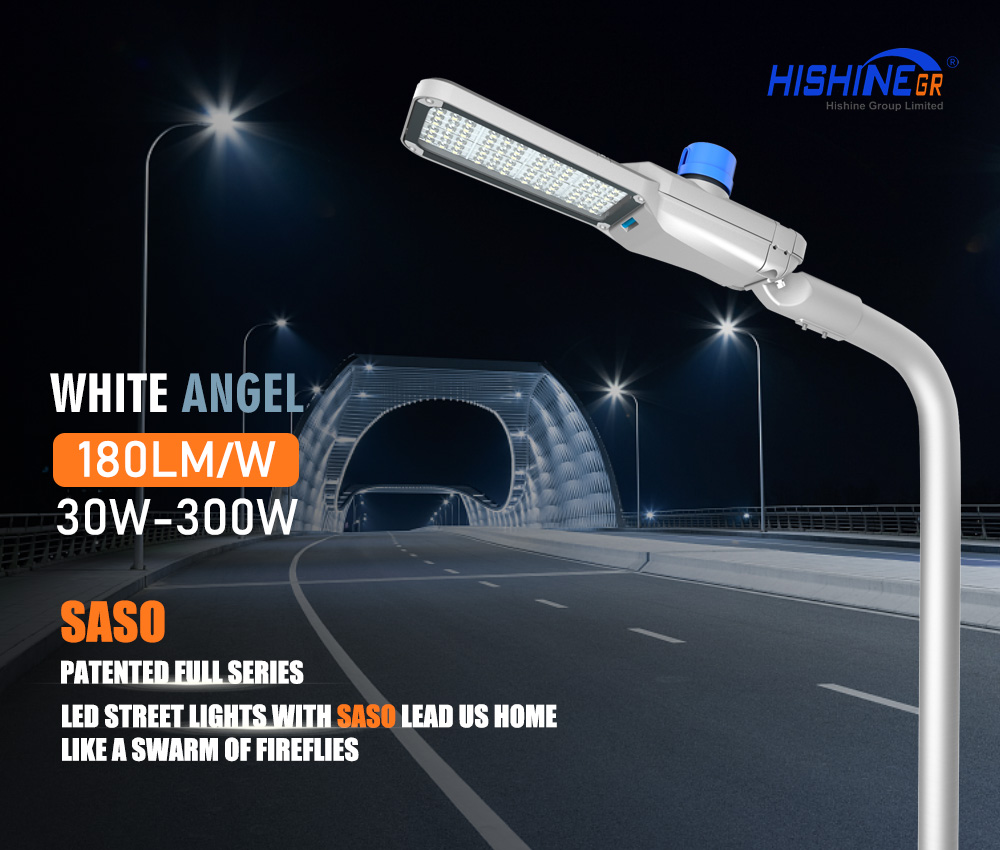 Hi-Rise led street light is a new LED street light released by Hishine Group Limited. The LED street light shell is made of ultra-thin Die-Casting aluminum, which makes the LED street light have good heat dissipation performance. Under the same conditions, the light decay of the LED street light is about 20% less than other ordinary LED street lights. In addition, Hi-Rise LED street light has a unique buckle design, which can easily install the street light on both sides of the road.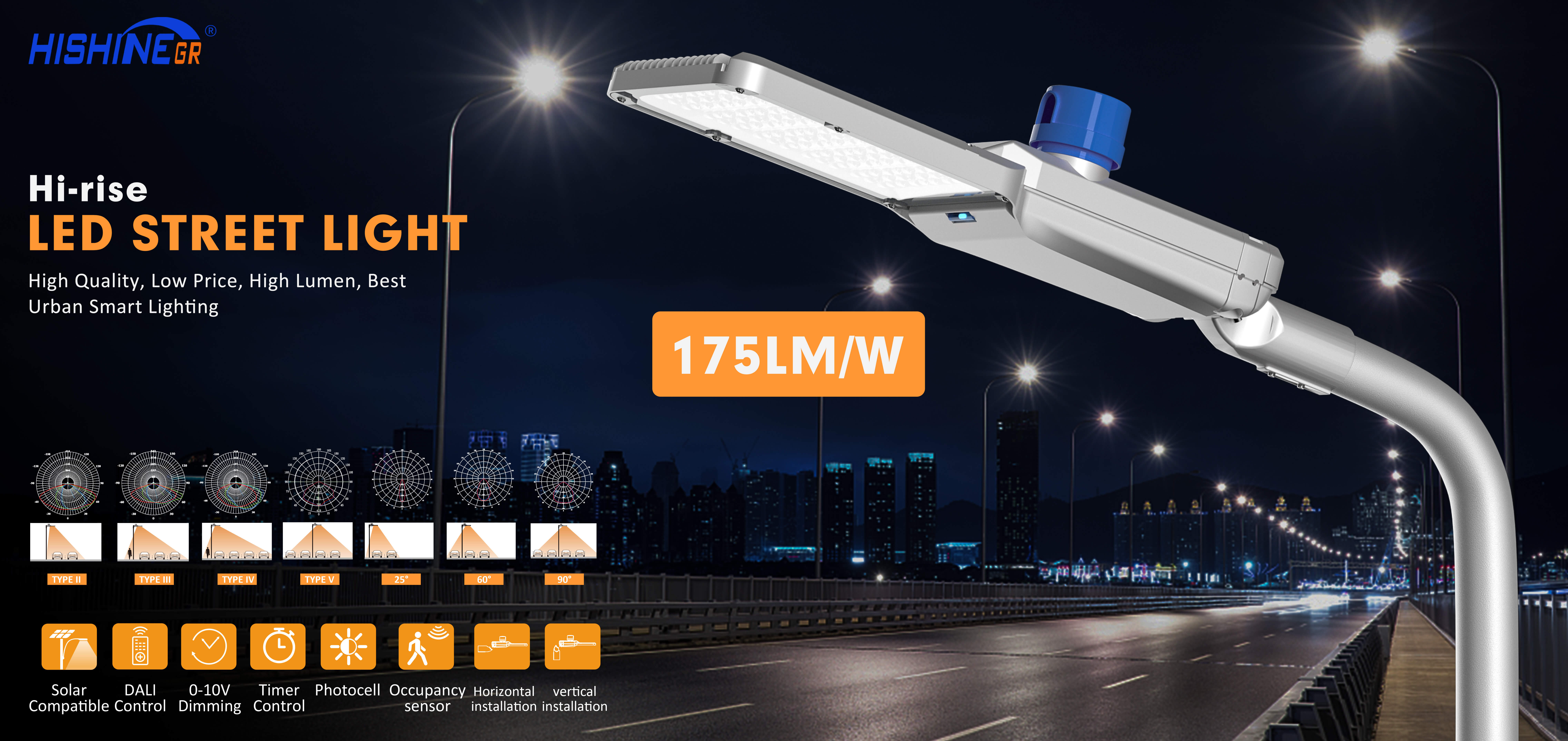 Hi-Rise LED Street Light Features
1.Waterproof IP65,high thermal conductivity housing
2.Beam angle TypeII,TypeIII,TypeIV,TypeV,25° 60° 90° PC+glass lens
3.Support smart control: photocell, motion sensor, lora, zigbee etc.
4.High lumen SMD3030 chip, luminous efficacy 175Im/w
5.Ultra slim heat sink design makes the lamp lighter and betier in heat dissipation
Hi-Rise LED Street Light Product Parameters
Part Number


HS-SL45W-D

HS-SL75W/100W/150W-D


HS-SL200W/250W-D

Wattage


45W

75W/100W/150W

200W/250W

Lumen Output

7875lm

13125lm/17500lm/26250lm

35000lm/43750lm

LED Chip

Lumileds 3030

Luminous Efficacy

175LM/W

LED Quantity


64pcs

96pcs/144pcs/192pcs

288pcs/360pcs

CCT

3000K-6500K

CRI

>70

Beam Angle

60o/90o/Type II,III,IV,V
25o/60o/90o/Type II,III,IV,V
25o/60o/90o/Type II,III,IV,V
IP Rating


IP65

Working Temperature

-30o~55o

Input Voltage

AC100-277V/247V/480V,50/60HZ,>0.92

Warranty

7 Years

Lifespan

>50000hrs

Material

Aluminum housing+PC lens+Glass cover
Actual Light Pictures
---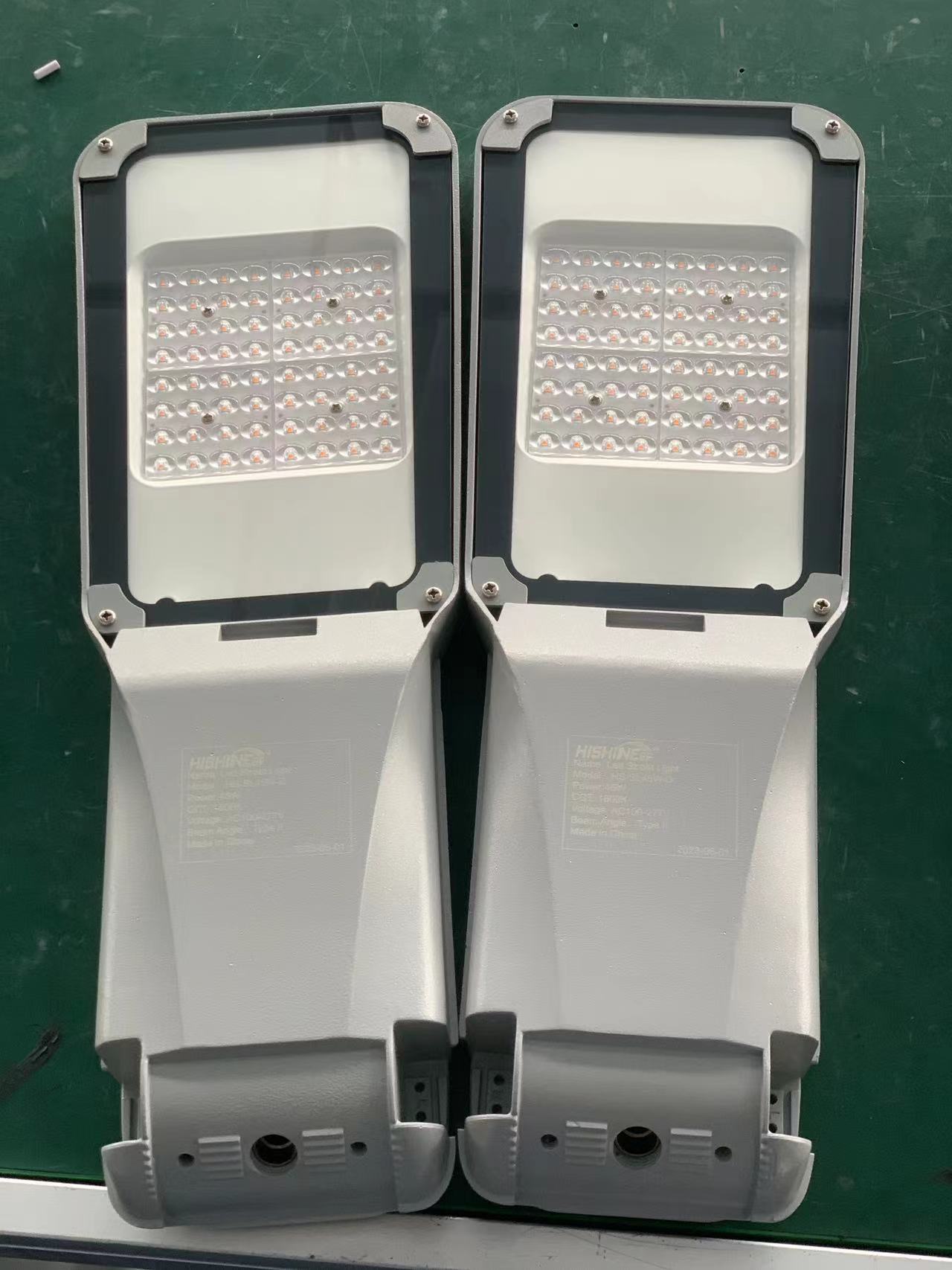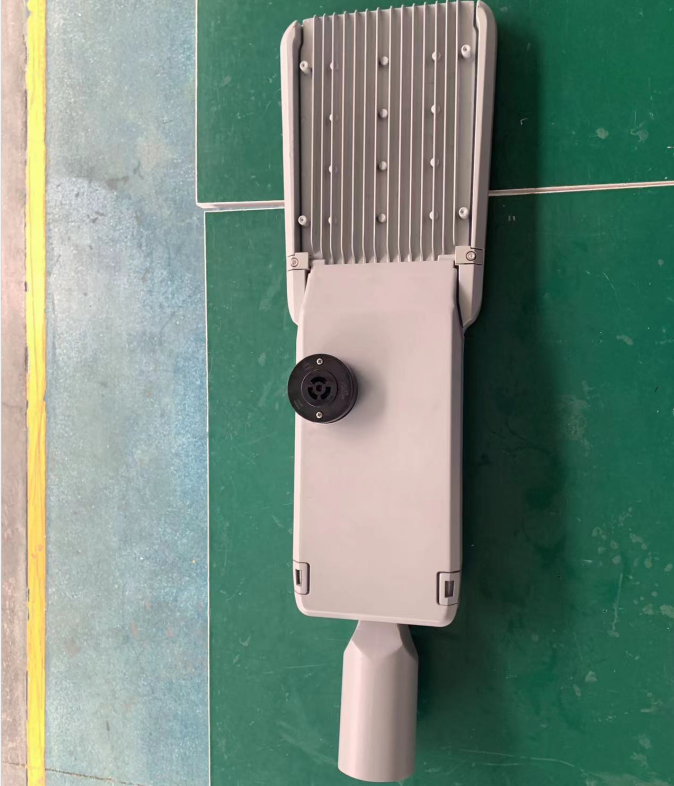 Aging Text

Hi-Rise LED Street Light Technical Specifications
---
Part Number

Dimensions(MM)

N.G(KG)

G.W(KG)

Package Size(MM)

45W

599L*162W*108H

3.6

4.2

641L*204W*311H

75W

100W

150W

200W

742.5L*217W*108H

5

5.8

784.5L*259W*311H

250W
Advantages of LED street lamps
Hi-rise LED Street Light is the most cost-effective professional LED street light launched by Hishine Group. Hi-rise was designed to provide customers with tool-free installation, lower maintenance costs, and lower operating costs. Hi-rise LED Street Light features modern streamlined geometry, exquisite design, attention to detail, and outstanding application performance, energy efficiency and system reliability.
LED Street Light Beam Angle
Hi-rise LED Street Light has obvious advantages in structural strength, corrosion resistance and heat dissipation due to its strong structure and smooth design. Secondly, Hi-rise LED Street Light has excellent light quality. 250 w Lumen Output can reach 43750 LM, Luminous Efficacy is as high as 175 w/LM, and there are TypeII, TypeIII, TypeIV, TypeV, 25 ° to 60 °, 90 ° a variety of optional light Angle.

High Light Effect

High lumen SMD3030 LED chip, high light efficiency low loss.250W can provide high light output up to 43750lmlm. Power saving up to 50%.
Dust Cover

Optional dust cover, waterproof grade IP65, suitable for outdoor and other harsh environments, effectively extending the service life.
Controller
Smartphone, support wireless on/off, dimming status monitoring, remote control, everything can be easily and conveniently via smartphone.
Application
⊿ Cities: LED streetlights are typically installed along the main roads and highways. These lighting fixtures provide illumination for drivers, pedestrians, and cyclists, making it easier for them to navigate their way through the busy city streets. Streetlights also help to deter criminals and reduce the incidence of accidents caused by poor visibility.
⊿ Rural areas: LED street lights are used primarily for safety and security purposes. They are installed along the main roads leading to villages and towns, providing illumination for motorists and pedestrians. The use of streetlights in rural areas has been shown to reduce the incidence of accidents caused by poor visibility and deter criminal activity.
⊿ Squares and parks: streetlights are used to enhance the aesthetic appeal of the area. These lighting fixtures are often designed to be decorative and provide a warm and inviting ambiance. Streetlights in squares and parks are also used to highlight important features such as fountains, statues, and monuments.
⊿ Residential areas: streetlights are installed along the streets to provide security for homeowners. These lighting fixtures are typically designed to be energy-efficient and long-lasting, reducing the cost of maintenance and operation. Streetlights in residential areas also help to create a sense of community and provide a safe environment for residents to walk and exercise.