Description
---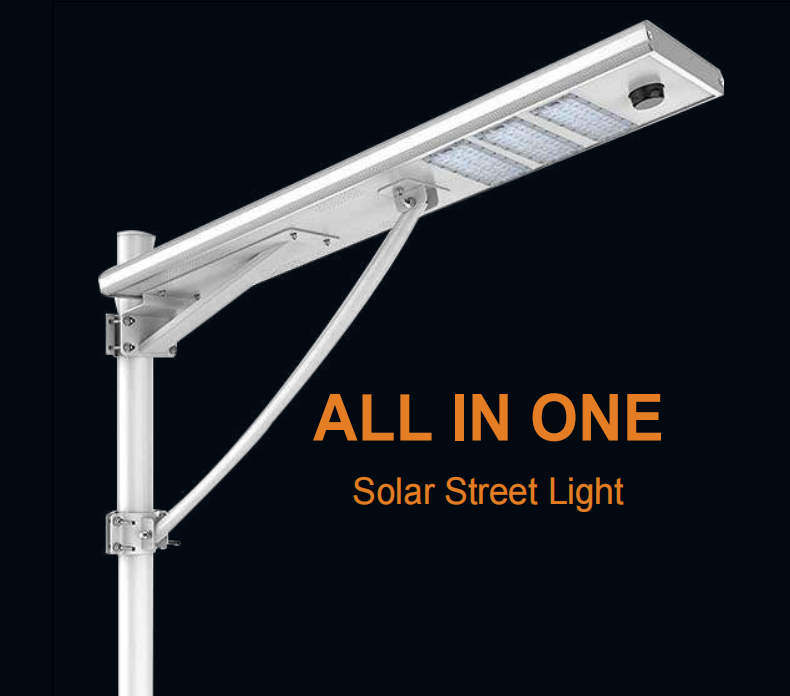 Features:

1. The radiator is 6063 aluminum, which adopts thick anti-corrosion paint treatment;
2. No additional wiring is required, saving costs; multiple mounting brackets can be tube mounted, arm-mounted, etc.;
3. Direct luminous design, high light transmission PC protective cover, light transmittance of more than 90%, high light efficiency;
4. MPPT controller, effective sunshine for 6 hours, lasting 3-7 rainy days, The human body sensor + light control output can be set as
required;
5. Genuine imported chip lamp beads, high light efficiency, low light attenuation, high energy saving efficiency;
6. High thermal conductivity aluminum substrate and radiator, low-temperature rise, good heat dissipation of the whole lamp, and more
guaranteed life;
7. 3 years warranty guarantee, lifetime cost, and price maintenance.
Product Details: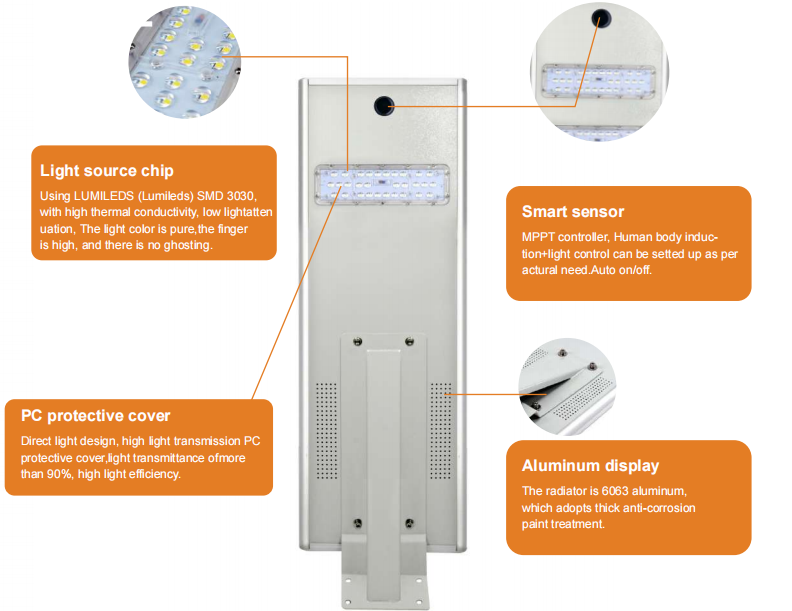 1.Light Source Chip: Using Lumileds SMD 3030, with high thermal conductivity, low lightatten uation, the light is pure, the finger is high, and there is no ghosting.
2.Smart Sensor: MPPT controller, Human body induction+light control can be setted up as per actural need. Auto on and off.
3.PC Protective Cover: Direct light design, high light transmission PC protective cover, light transmitance of more than 90%. high light efficiency.
4.Aluminum Display: The radiator 6063 aluminum, which adopts thick anti-corrosion paint treatment.
5.Monocrystalline Solar Panel: Imported Mono solar panels. the panel chip is closely covered, the light charging is faster.
6.Lithium Battery: Lithium LifePO4 battery 3.2V, large capacity full chage only need 6 hours sunlight. can support 3-7 rainy days. overcharge protection, over discharge protection, temperature control protection.
Datasheet
---
Product Model

HS-SSL30W-C

HS-SSL340W-C

HS-SSL60W-C

HS-SSL80W-C

HS-SSL100W-C

HS-SSL120W-C

Power
30W
40W
60W
80W
100W
120W
Lamp Size(mm)
640*359*50
830*359*50
830*426*50
1080*359*50
Lithium Battery
60WH, 3.2V

80WH, 3.2V

120WH, 3.2V

130WH, 3.2V

160WH, 3.2V

208WH, 3.2V

LED QTY
30pcs
48pcs
64pcs
96pcs
128pcs
160pcs
Material
6063 Aluminum+PC lens
CCT
3000K,4000K,5000K,6000K
LED
Original Lumileds SMD 3030
Light Effeciency
180LPW
Controller
MPPT controller, up to 95% efficiency

Way to Control
Dusk to Dawn+Time Control+Motion Sensor, Auto on and off
PWM Charging
6 Hours Charging, Lasting for 3-7 Rainy Days
Anti-Surge Level
>4K

Work Temperature
-30°-55°
Life Time
>50,000 Hours
Why Choose US?
---
Professional Lighting: Superb technology, stable quality.


Much Longer Warranty: The whole fixture with 3 years warranty.

Technical Research: Professional research them, integrating design and production.

Top Quality Heat Sink: Excellent Heat Dissipation with Stable Performance, No Fadng and Much Longer Life Time.

Quality Assurance: The item meet international quality and environmental certification.

Novel Design: The design of the lamp body is novel and elegant. on the basis of maintaining the technology, the beauty of the lamp body is increased.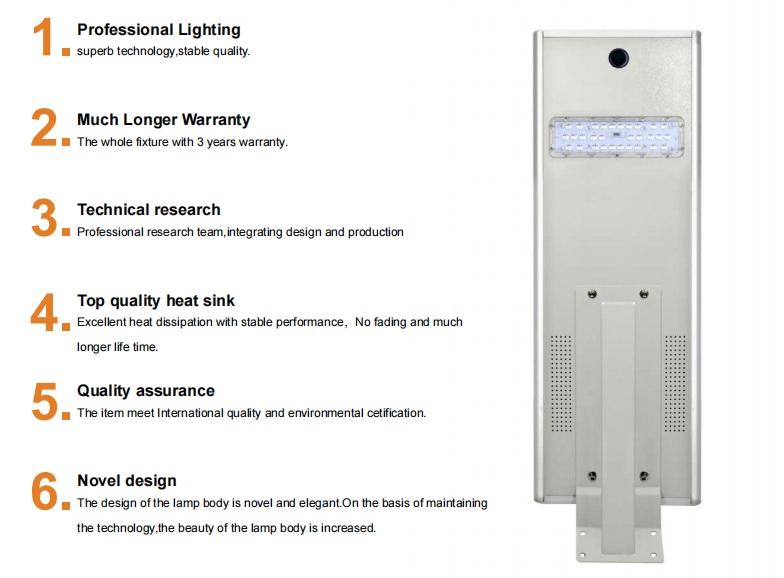 Application:
---
1. Highway: Hi-Small LED solar street light provides powerful light efficacy and an independent heat dissipation system, with an intelligent control system(LoRa/DALI/ZigBee...), it can be easily managed without leaving the center room.
2. Urban Roads: A sleek and modern design that blends well with contemporary urban environments. They are also compact and lightweight, making them easy to install and maintain.
3. Outdoor Way & Parking Lot: Hi-Small LED solar street light is equipped with advanced sensors and controls that allow for remote monitoring and adjustment of lighting levels. This ensures that energy is not wasted by lighting areas that are not in use and that the lighting is optimized for maximum efficiency.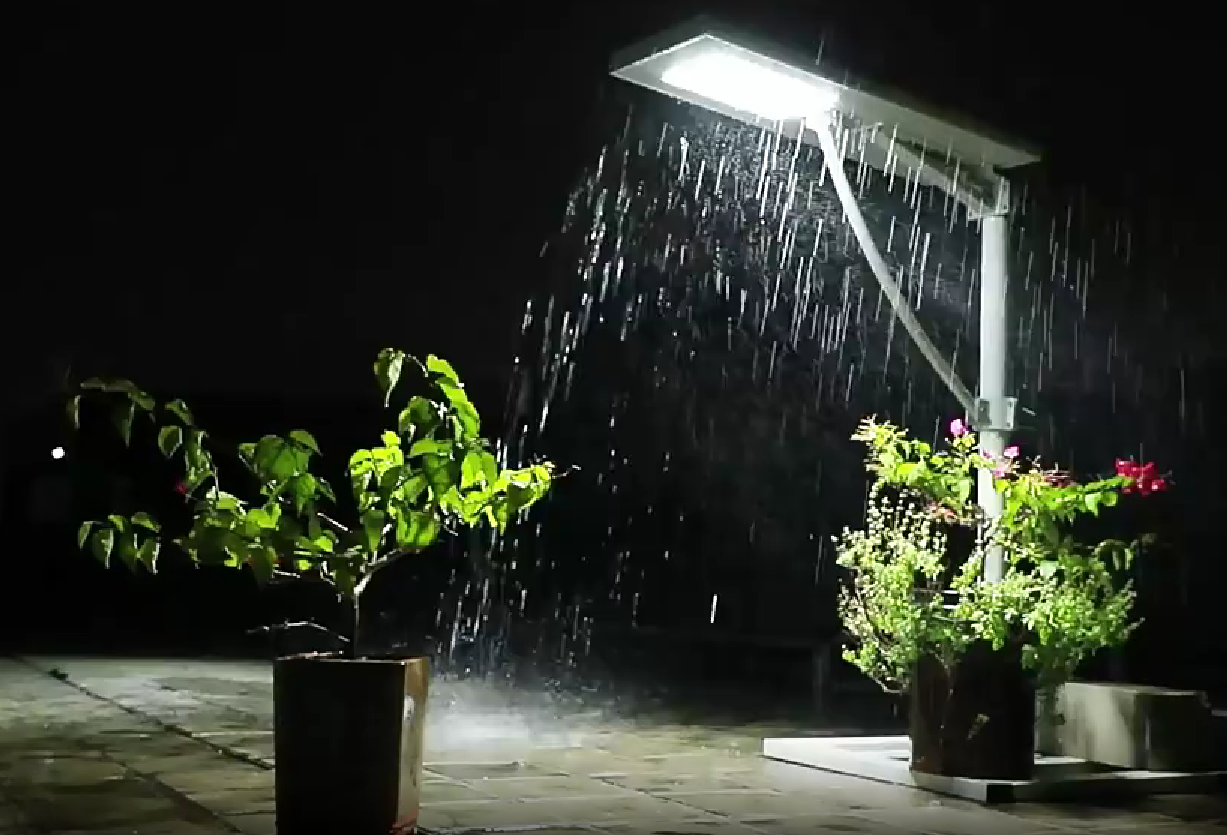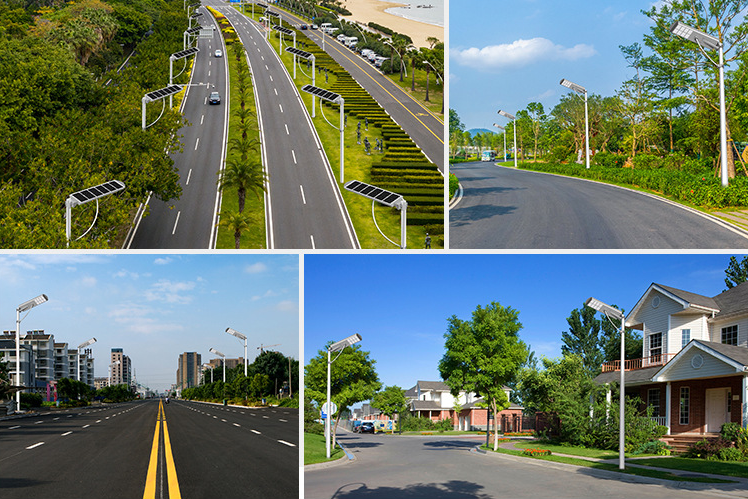 Hot Tags: Economical LED Solar Street Light | MPPT Controller, manufacturers China, suppliers China, factory, wholesale, buy, Round Led Retrofits, led retrofit lamps, led can light retrofit, Panel High Bay Light, Flat Panel High Bay Light, Endless Connection High Bay