Outdoor lighting is often one thing, planning and buying outdoor fixtures and decorating your yard is another, but when it comes to solar versus traditional garden lights, how do you know which is right for you?
Most of us want to be able to show the beauty of our garden at night, especially the hostess of the home. There are two types of garden lights that are common on the market now, one is the traditional lights powered by mains electricity, and the other is the emerging solar garden lights. Rather than figuring out how to choose patio lights yourself, take the advice of an expert and find out what the real differences between these two types of lighting are so you can make the right choice for your space.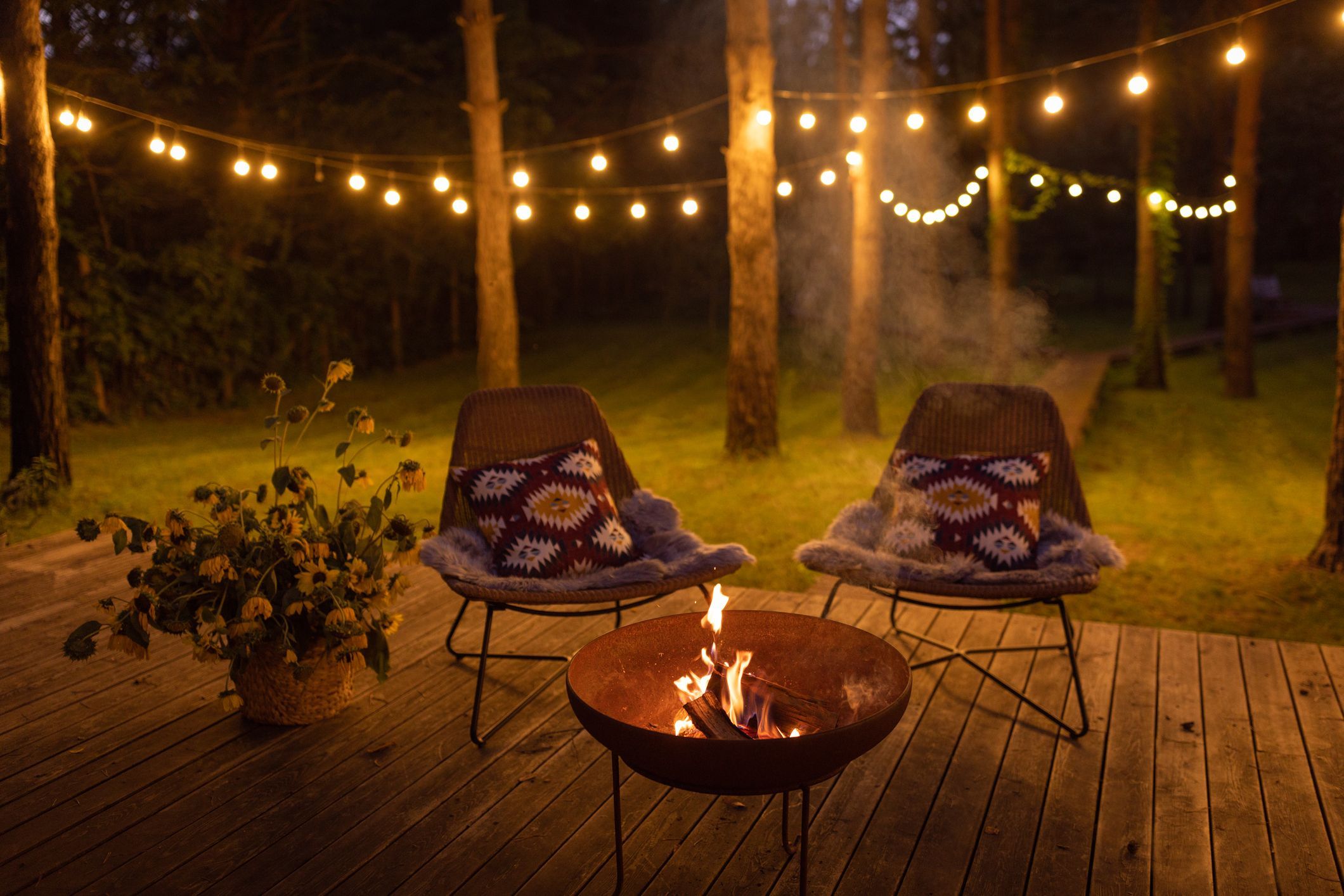 After all, lighting can make a huge difference to a garden. "When night falls, lighting is the perfect tool to bring fun and life to your garden," says Dan Domeniconi, founder of interior design consultancy Dome Design.
Before we compare the two lighting options, it's helpful to clarify what we mean when we talk about solar garden lights vs battery garden lights. "It's important to remember that all lights are battery powered - but solar lights use solar energy to recharge the batteries," explains Francesca Hadland, interior specialist at outdoor furniture company Bridgman.
So when we talk about battery-operated lighting, we mean those that run on conventional or rechargeable batteries. The other main type of outdoor lighting is mains, but how to choose mains powered outdoor lighting is a topic for another day
When it comes to solar vs battery garden lights, understanding their advantages is a useful starting point.
Francesca of Bridgman said: "With integrated solar modules powered by renewable solar energy, the solar lights can be easily moved. As a result, these lights have no messy wires, allowing more creative freedom for incorporating luxury solar lighting into the art of landscape design."
The green credentials of this lighting are also an added bonus. Claire of Bassett, Senior Product Manager at Lights4Fun added: "Compared to mains or battery powered garden lights, solar lights are more environmentally friendly because the batteries are charged by natural sunlight."
In short, yes. "Thanks to carefully selected weatherproof materials and powder coat protection, most solar lights can be kept outdoors in the garden in all seasons," explains Richard, director of outdoor living specialists Harbor Lifestyle. "They can be used in temperatures up to -20°C and offer excellent protection against UV rays, moisture, mold and frost."
"Solar lighting is also suitable for most weather types, as the sun's rays can still be detected even on cloudy days. Plus, a little drizzle is often good for solar modules, as the raindrops help remove surface dust and debris from the panels themselves, allowing for maximum light absorption.
"Alternatively, most solar lights offer a USB charging option - so if the weather does get rough, you have another option to keep your space well lit."
When it comes to battery powered solar vs battery garden lights team, they both have their own advantages for lawn and yard lighting. Claire from Lights4Fun says: "Battery-operated garden lights can illuminate any part of the garden, even hard-to-reach spots, because there's no need to use a power outlet or direct sunlight to recharge the solar panels."
"Most outdoor battery lights come with an optional timer feature that lets you choose to automatically light up every night, and simply place the light anywhere you choose to magically illuminate your outdoor space all season long."
This is the moment how long a string is. Battery-operated lights do tend to be cheaper on average, making them a better budget garden idea initially, but costs can vary widely based on a number of factors.
"It depends on the product, the number of LEDs, the materials used, and the battery capacity inside the product," explains Lights4Fun's Claire.
In the debate between solar garden lights vs battery garden lights, this can be a matter of make or break. After all, we all know that products that are expensive to use don't end up being widely used. Solar lights, which use the sun's rays, are a more cost-effective option.
"Once the product is purchased, solar-powered products are less expensive to run because the batteries are powered by sunlight," adds Lights4Fun's Claire. "Purchasing replacement batteries for battery-powered items will require additional outlay."
So, where do we stand when counting solar garden lights versus battery garden lights? As with most things, it comes down to personal preference and you should find a light that suits you, your garden and your style.
You May Like
---
All in One Type Solar Garden Light (180LM/W)
1. Mainstream integrated structure design, saving transportation costs
2. Bridgelux chips 3030 (Lifetime 100000hours)
3. Imported high-efficiency monocrystalline silicon.
4. Whole lamp can be 30° adjustable.
5. Built-in large-capacity LifePO4 battery.
6. Beam angle is 70°*140°, Asymmetric 30
7. Easy to install and disassembly, convenient for maintenance
8. With 4 lighting modes, flexible to switch via remote control.
9. Remote control distance of up to 15 meters