HISHINE Lighting, we provide high-efficiency led stadium lights to meet the needs of different types of led lighting in stadiums (soccer, basketball, baseball, tennis, football) and arena applications, and maintain sufficient illumination to illuminate these sports venues. At the same time, it reduces light scattering and causes light pollution. LED lights can save up to 90% of energy consumption and have a service life of more than 100,000 hours. The high-quality radiator reduces heat generation, thereby reducing the load on the air conditioner. Our durable stadium lights can also be used for outdoor and indoor LED lighting, such as indoor stadiums, warehouses, parks, streets, loading ports, airports, safe areas, highways.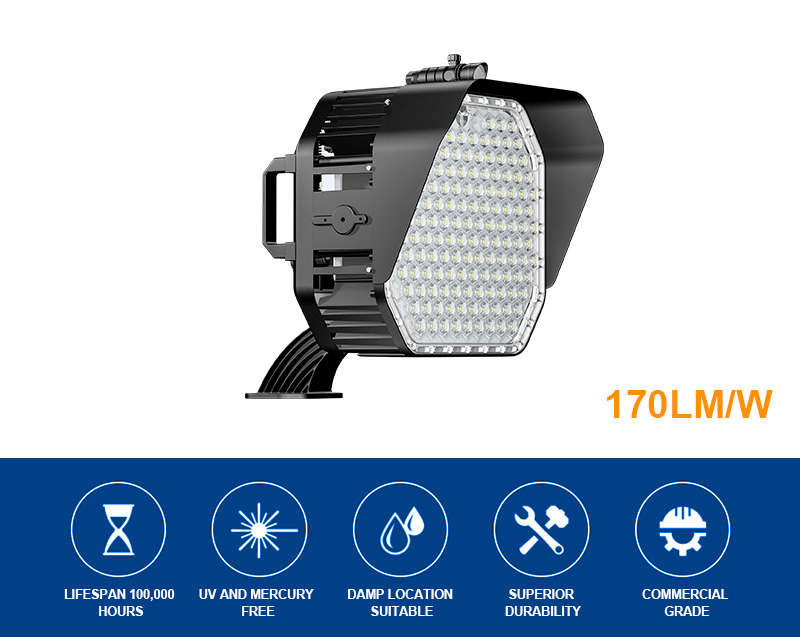 HISHINE CORE TECHNOLOGY
Ultra Lightweight
This novel structure keeps the weight per watt, kg/watt, lowest in the current market.
Minimizing the Cross-section
Small EPA will have the LED stadium lights take the minimum wind pressure in the sky.
Unaffected by Dust Fallout
With the penetrable structure, the dust will directly fall out through the interval of the fin modules and keep the heat sink remain dust-free.
Up-lighting
With our patented structures, the heat will dissipate effectively in any direction.
Hi-Shoot Outdoor stadium lights Product Specifications

Hi-Shoot Outdoor stadium lights Structure
-600 Watt, 102000 lumens, 170 LM/Watt

-UL / DLC/CB/SAA/IK10 approved

-15°, 30°, 45°, & 60° beam angle

-AC100-277 or AC240-480 Voltage

-5000K CCT (4000 & 6000K optional)

-Drag coefficient: 17 windage

-Custom bracket optional

-1-10v dimming, intelligent dimming (light control, optional wireless control)

-Intelligent control system

-Input protection of 10kv surge

-Power Factor .95, IP Rating: IP67

-Equipped with a 6FT Power Cord(12FT Power Cord Optional)

-Compact size and lightweight with low EPA

-Dimensions: 6.9" x 15", black anodized hood and fixture
Hi-Shoot Outdoor stadium lights Product Parameters
| | |
| --- | --- |
| Part Number | HS-HM600W-A |
| Wattage | 600W |
| Lumen Output | 102000lm |
| LED Quantity | 144pcs |
| Size(MM) | L397*W369*H174 |
| LED Chip | Lumileds 7070 |
| Luminous Efficacy | 170LM/W |
| CCT | 3000K-6500K |
| CRI | ≥80 |
| Beam Angle | 20°/30°/45°/60° |
| IP Rating | IP67 |
| Working Temperature | -30℃ to +55℃ |
| Input Voltage | AC100-277V/347V/480V, 50/60Hz, >0.92 |
| Warranty | 7 years |
| Lifespan | >50,000hrs |
| Material | Die-casting Aluminum housing+PC lens |
13 allows you to buy Hi-Shoot LED Stadium Light reasons
1. Super bright
High lumen efficacy 170lm/w, saving cost by 40%
2. High light effect
High lumen SMD7070 LED chip, 40% stronger than SMD3030 penetration, 10% stronger than SMD5050 penetration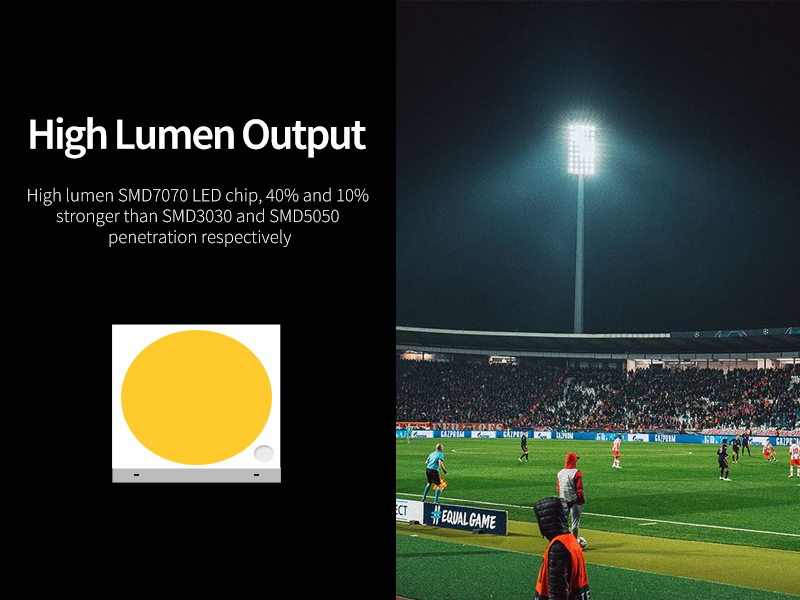 3. Unique design
Anti-bird and leaves, independent cooling of light source and driver, which will reduce light decay.
4. Anti 17-level Wind Power
The air convection structure of the luminaire can effectively reduce the wind load, light weight and small windward surface, and has strong wind resistance.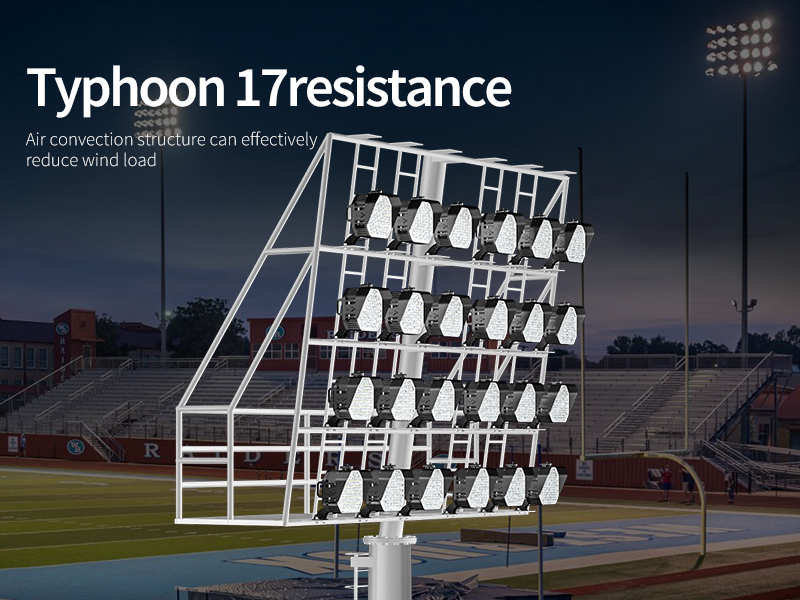 5. Various Beam Angle
Beam Angle: 15°, 30°, 45°, 60° are available. The lens adopts hexagonal honeycomb design and UV stabilized materials.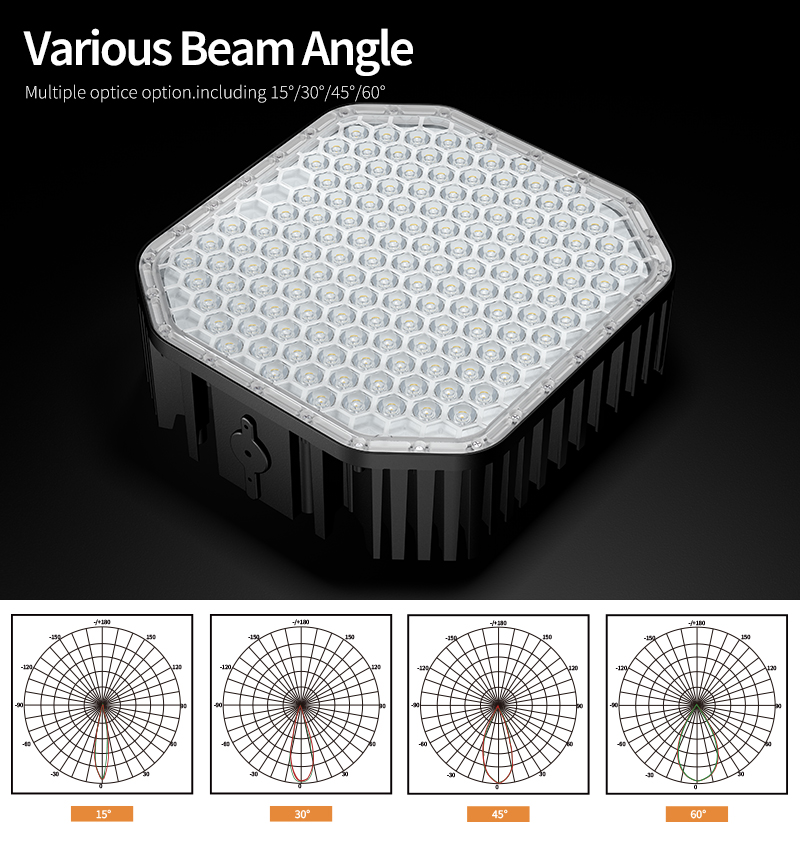 6. Laser sight
Efficiently control the illuminating range of the luminaire to minimize installation costs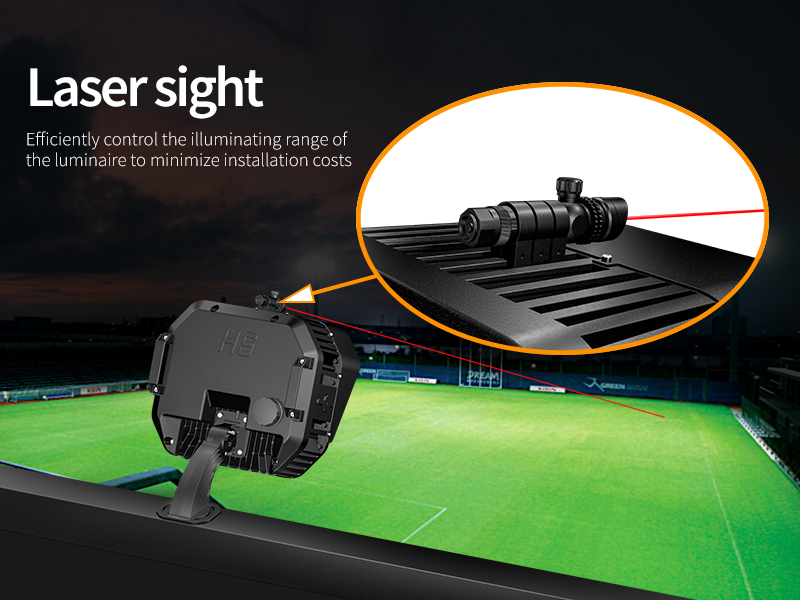 7. Extraordinary Thermal Management
Unique air convection radiator design provides superior ventilation efficiency. Air is freely flowable among the pins in any direction, maximizing heat dissipation and lifespan of the LEDs.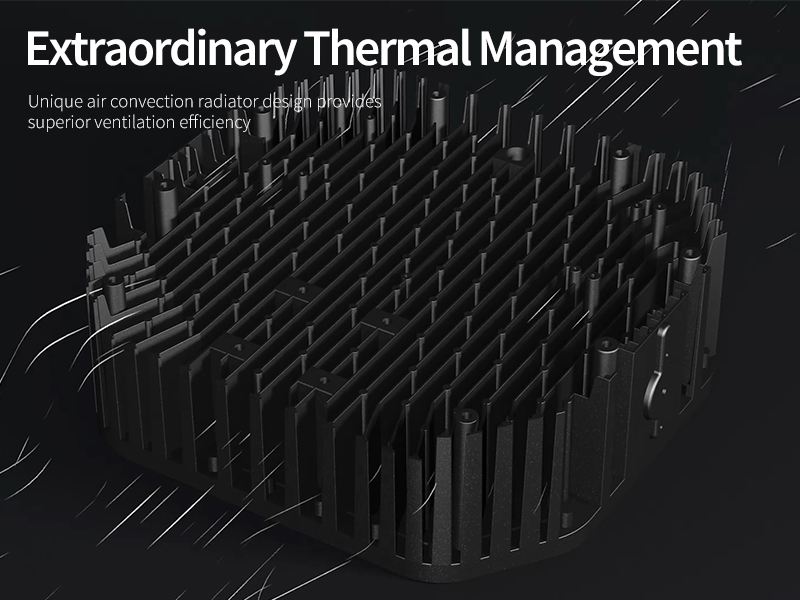 8. High Impact Resistance
Meet IK10 standards.Protected against 20 joules of impact (the equivalent to the impact of a 5kg mass dropped from 400mm above the impacted surface).
9. Support TV broadcast standard
10. Hood
To control the light pollution better especially needed when lamps are applied near the airport etc.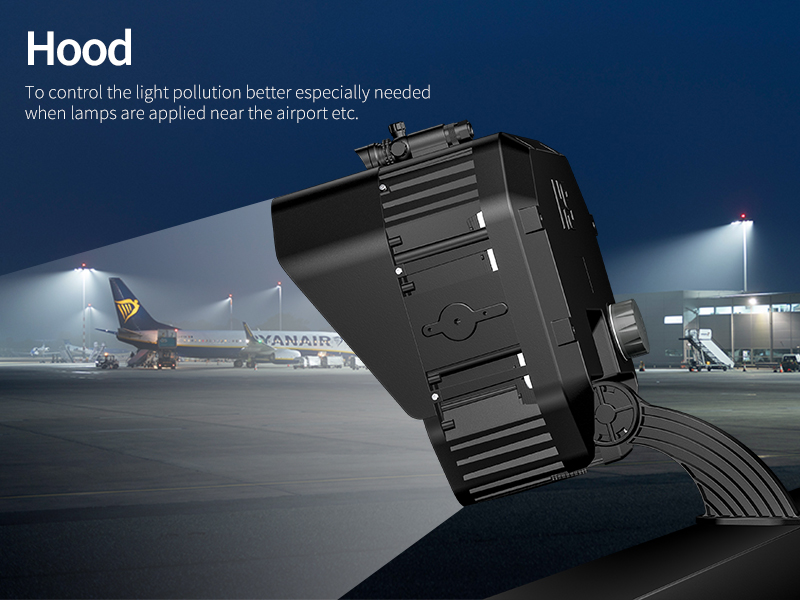 11. High Protection Level up to IP67
silicone rubber ring sealing process, IP grade reach IP67,completely prevent dust invasion and heavy rain.
12. Intelligent Control
Intelligent Zigbee controller, supports wireless on/off, dimming, color turning, grouping, status monitoring, remote control, all simply and easily via smart-phone.
13. Hi-Shoot LED Stadium Light Multiple Mounting

Hi-Shoot Outdoor stadium lights Applications
-Football field, rugby field, baseball field, golf field, basketball court, swimming pool, hockey field, volleyball field and racing field
-Recreation area, park and tennis court
-Large parking lot and airport, seaport terminal
-Roadway and bridge high mast applications
-Lighting for oil refineries, drilling platforms, oil derricks, prisons, military camps and manufacturing sites