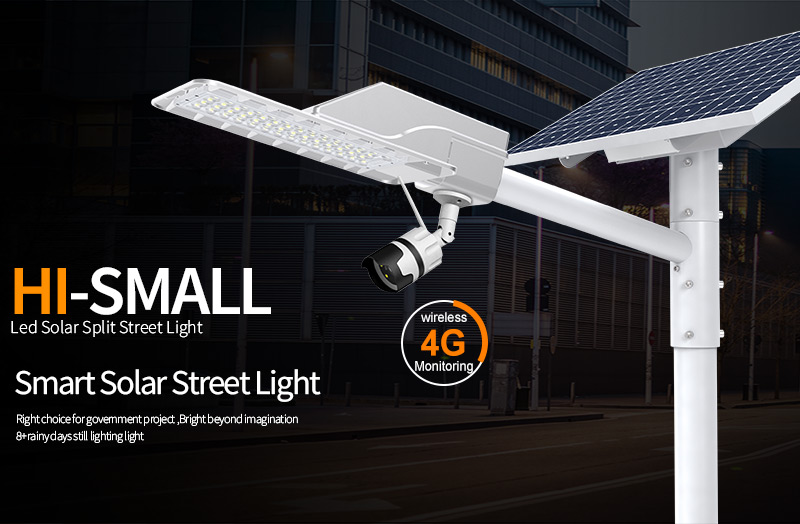 Hi-Small Led Solar Street Light Split outdoor solar lights fixtures combine architectural form and versatility to make it an excellent choice for outdoor solar lighting solutions.
Hi-Small outdoor solar lights adopt high-efficiency solar cells (around 17%), top performing long lifespan battery, and solid solar MPPT battery charge controller with built-in LED driver. Excellent LED chips to make the luminous efficacy up to 130 lm/w. High output LEDs and bespoke engineered optics provide an excellent lighting solution with improved uniformity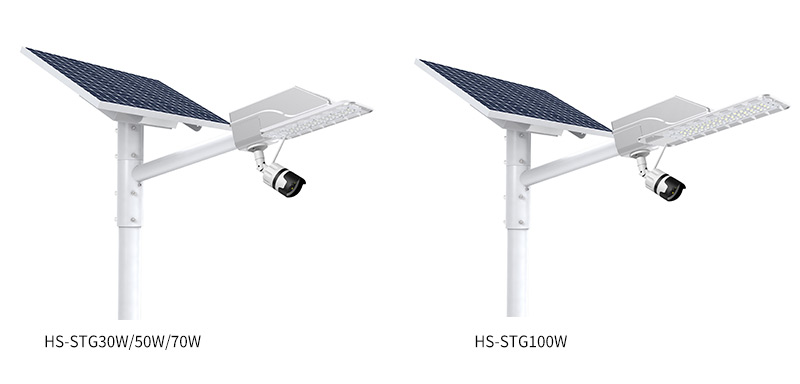 Hi-Small Led Solar Street Light Product Parameters
Part Number

HS-STG30W

HS-STG50W

HS-STG70W

HS-STG100W

Wattage

30W

50W

70W

100W

Lumen Output

3900lm

6500lm

9100lm

13000lm

Solar Panel

(Monocrystalline silicon)

50W/18V

70W/18V

90W/18V

120W/18V

Solar Panel Size(MM)

670*540*25

670*540*25

770*670*30

920*670*30

Battery

275WH/12V

385WH/12V

550WH/12V

800WH/12V

LED Chip

SMD 3030

Luminous Efficacy

130LM/W

CCT

3000K-6500K

Mounting Height

5-8M

8-9M

9-10M

10-11M

Install the distance

20-32M

32-36M

36-40M

40-45M

Storage Temperature

0℃~+45℃

Operating Temperature

-14℃~+70℃

Discharge Time

adjustable wet weather 3 days (24hours to 36 hours)

Controller

24V MPPT controller (time + light control)

Beam Angle

Type III, Type IV, Type V

Intelligent control

Night sensor + PIR motion sensor+Remote Control andCamera Monitoring

IP Rating

IP65

Warranty

5 years
Hi-Small Led Solar Street Light Multiple Type Of Light Distributions
Split Solar outdoor area light provides solution for various areas and sites.
Type II: 5-7M installation height for 1 traffic lane or 8-12M for 2 traffic lanes
Type III:8-12M installation height for 3 traffic lanes
Type IV: Medium
Type V: Short, for parking lot squre shape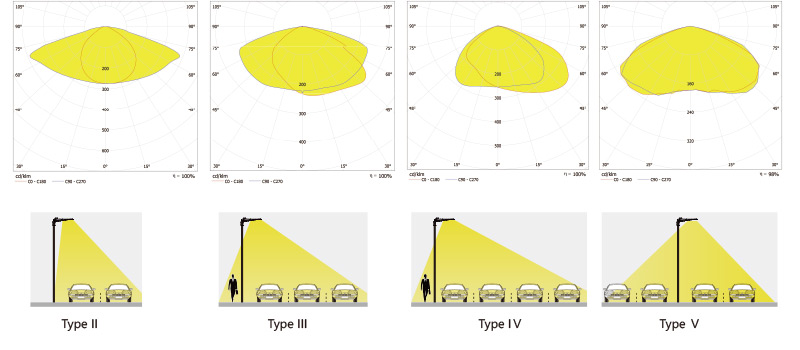 Hi-Small Led Solar Street Light Energy Savings 50%
1. Beam angle Type II,III,IV,V lens with transmittance 92%
2. Night sensor + PIR motion sensor+Remote Control +Camera Monitoring
3. Top quality solar cells, smaller size but higher efficiency
4. Flexible Adjustable angle solar panel, high strength against wind
5. Big capacity and deep cycle lithium battery, more durable service life.
6. 4 types of working modes option
7. Hishine patented product, beautiful appearance in integrally molded design,Aluminum alloy case Camera Monitoring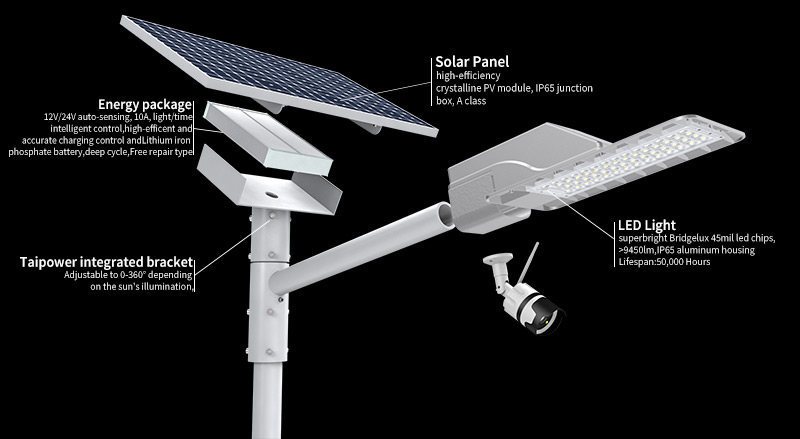 Hi-Small Led Solar Street Light Motion detection
Hi-Small comes complete with built-in motion detection detection system that automatically regular the light soure from full bright(100%)to the energy saving output(50%) to increase battery autonomy.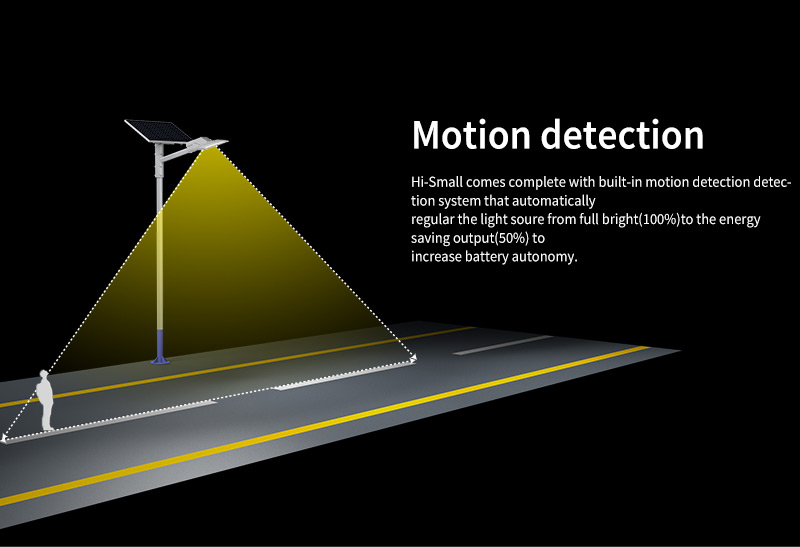 Hi-Small Led Solar Street Light IP Rating IP65
silicon rubber ring sealing process, IP grade reach IP65,completely prevent dust invasion and heavy rain.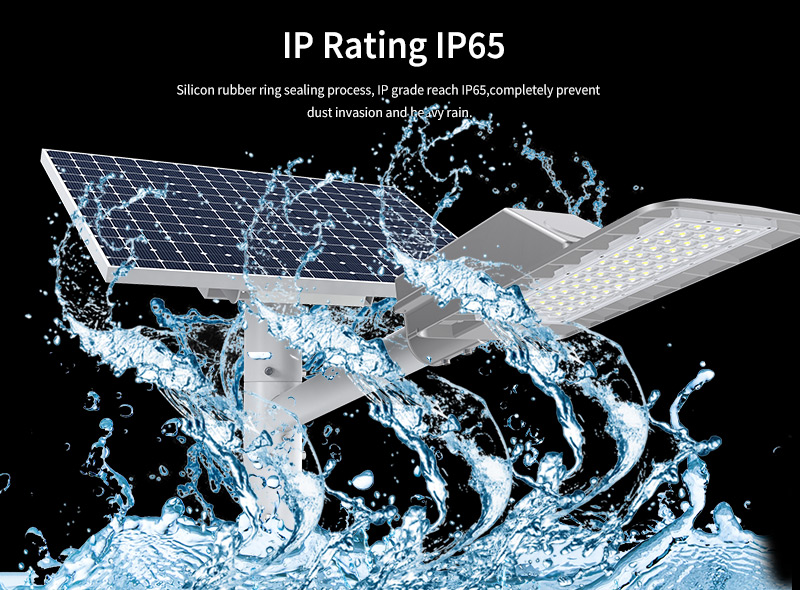 Hi-Small Led Solar Street Light Applications
Widely use in high way, parking lot area, roadway, pathway, square,stadium,residential area,yard,industrial area and etc.