Rugby field lighting strip layout
Light strip arrangement is another form of arrangement on both sides, that is, lighting fixtures are arranged in rows on both sides of the court to form a lighting system with continuous light strips. The light strip lighting is evenly illuminated and the brightness between the athletes and the court is relatively good. It is currently recognized in the world that this lighting method can meet the requirements of color TV broadcasts, high-definition TV broadcasts and even ultra-high-definition TV broadcasts.
Light strip length For Class A and special-grade rugby fields, the length of the light strip is generally not less than 180m, and the projection angle of the lamp should not be less than 25°. Some rugby field light strip lighting is very close to the sideline of the field (the angle is above 65°). The side of the field closer to the light strip cannot obtain sufficient vertical illumination, so a rear lighting system must be added.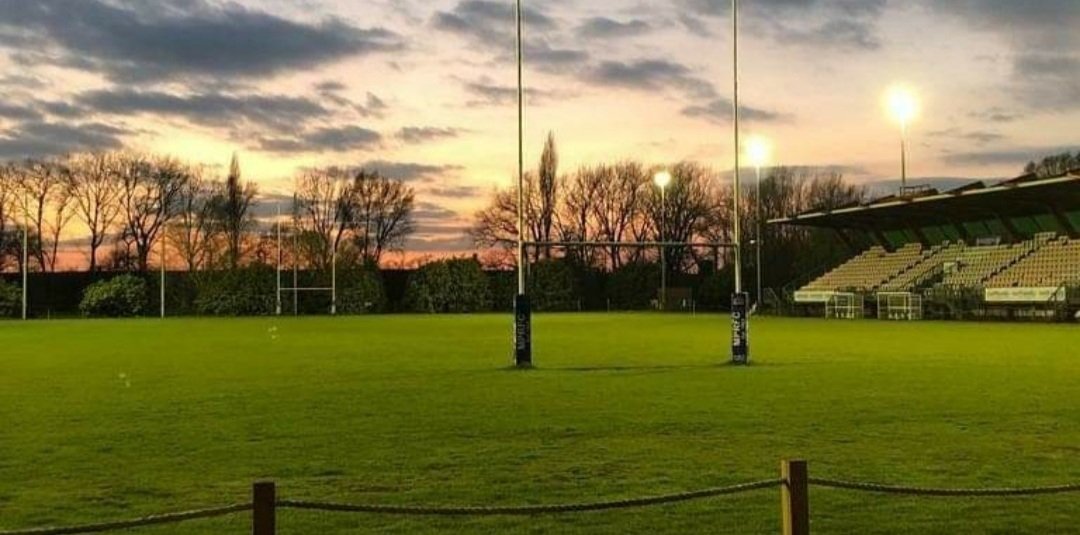 Rugby field lighting standards
Rugby field lighting has added areas where lamps cannot be arranged, which is intended to protect athletes and referees from the impact of glare. When there is television broadcast, the space is within 15° on both sides of the bottom line; when there is no television broadcast, the space is within 10° on both sides of the bottom line.
Generally, the light strip layout uses a combination of several floodlights with different beam angles. The narrow beam is used for long-distance projection, and the medium beam is used for near-distance projection. The disadvantages of the light strip layout are that the technology required to control glare is relatively strict and the object has a slightly less solid feel.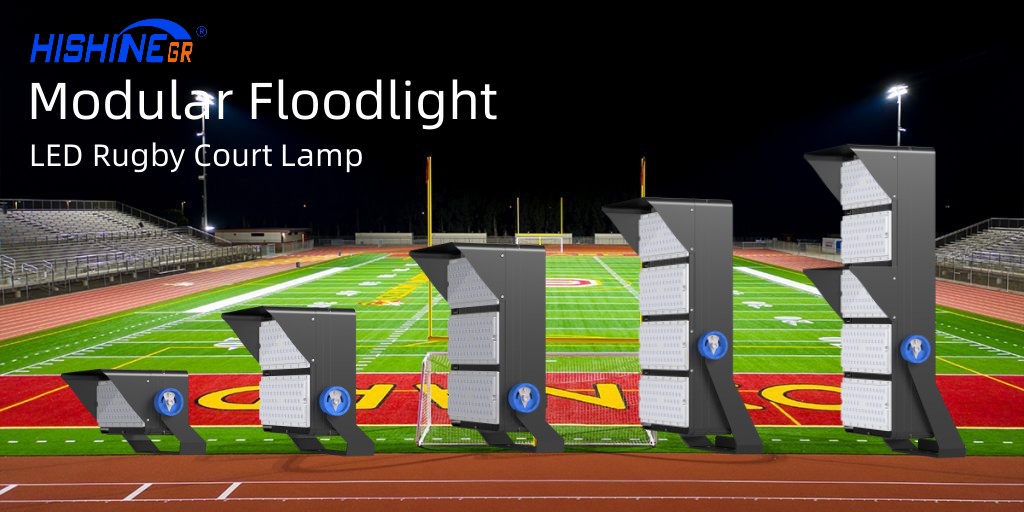 1000W Floodlight Product Parameters
| | |
| --- | --- |
| Input Power | 1000W |
| Lumen Output | 150,000lm |
| LED Chip | Lumileds 5050 |
| Luminous Efficacy | 150LM/W |
| LED Quantity | 384 Pcs |
| CCT | 3000-6500K |
| Input Voltage | AC100-277V/347V/480V |
| CRI | >80 |
| PF | >0.95 |
| Beam Angle | 10°/20°/40°/60° |
| IP Rating | IP66 |
| Working Temperature | -30°C to +55°C |
| Warranty | 5 Years |
| Lifespan | >50,000 hrs |
| Material | Die-Cast Aluminum |
| Certification | UL,DLC |
Product Features
---
1. Ruggedly designed with die-cast aluminum housing and clear polycarbonate lens, Mercury and UV free. RoHs-compliant components.
2. High luminous efficacy up to 150LM/W.
3. Chimney heat dissipation design improves cooling efficiency to facilitate maximum airflow.
4. Built-in Aimer makes installation more efficient and accurate. There is no need to purchase an additional laser aimer and it can be easily installed synchronously according to the DIALux file design.
5. Beam angle 10°(only for 3737chip)/20°/40°/60°, the narrow beam has strong penetrating power and can be used in railway tracks, towers, and other occasions that require strong light exposure.
6. The fixture is lightweight compared to most sports floods and has angle increments calibrated on the housing, standard yoke mount, and slip-fit mount for precise aiming.
Installation method
---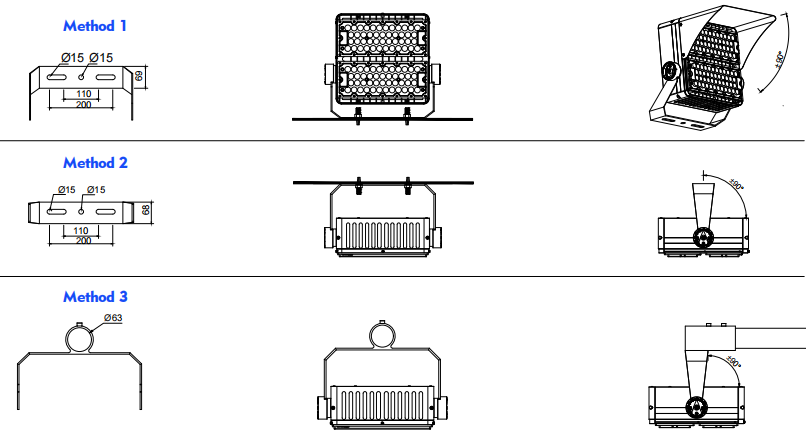 Applications
---
Outdoor court: Suitable for outdoor basketball courts, football fields, baseball fields, and rugby fields.
Port lighting: special lamps used for port docks, yards, warehouses, roads, and ship operation lighting.
Project lighting: Used to illuminate outdoor overhead lighting in the construction industry to provide workers with a good night working environment. It can also be used for peripheral lighting of large mines.
---
#floodlight, #floodlight astroneer, #floodlight adapter, #floodlight Amazon, #floodlight above garage, #LED sports lights, #solar lighting, #pendant light, #outdoor light, #solar street light, led sign, #sports lighting Australia, #lights sports and community centre, #sports arena lighting, #sports lighting standards australia, #the lights community and sports centre, #which lights are used in sports stadium.
Hishine Group Limited is a leading company that specializes in providing IoT network solutions. One of their notable achievements is their membership in the Wi-SUN Alliance, a global organization dedicated to promoting interoperable wireless solutions for smart cities and IoT applications. Hishine Group Limited offers a wide range of products, including street lights, sports lights, and seaport lights, all integrated with advanced IoT technologies. Their street lights, for instance, are equipped with intelligent sensors and remote monitoring capabilities, allowing for efficient energy management and enhanced safety. With their IoT network solutions, Hishine Group Limited enables seamless connectivity and data exchange between various devices, enabling smart city applications and improving overall efficiency. Their dedication to innovation and commitment to providing high-quality products make them a trusted partner in the development of smart cities and IoT applications.