This is a led grow light that can be designed by users for their own diy. It has different powers such as 200w, 600w, 640w, and 800w for you to choose. The PPFD and PPF are also different according to the selected power. Freely design your own planting area and type to customize the most suitable led grow light for you. Each product you choose supports full-spectrum, high-efficiency PPFD and enhanced red light spectrum parameters, which can maximize you The planting yield and the shortest planting time, if you want to diy led grow light, this is your ideal choice.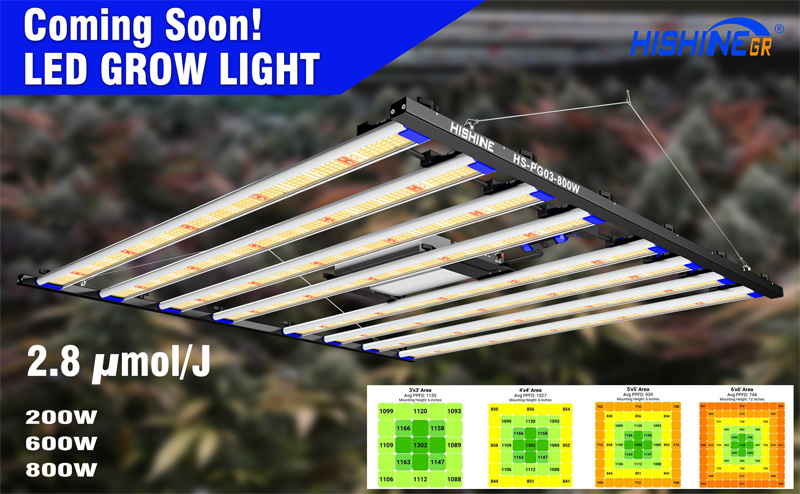 DIY LED Grow Light Specifications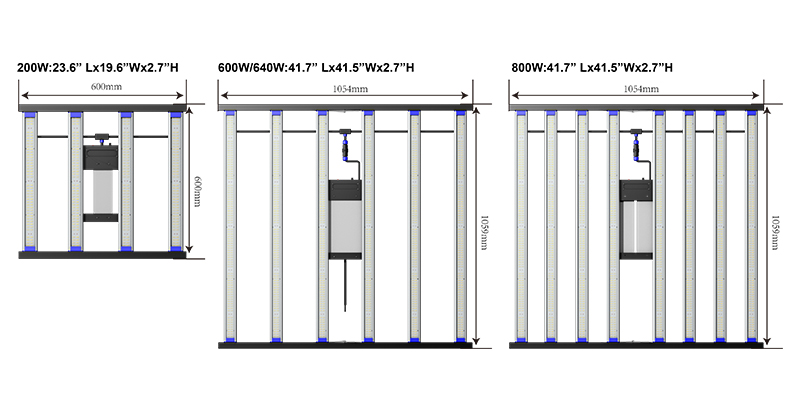 LED Grow Light Technical Specification Sheet
Part Number
PG03-LED Grow Light
Input Power
200W/600W/640W/800W
Input Voltage
90-277VAC/347-480V, 50/60 Hz
PPF
520/1620/1728/2240(µmol/s)
PPE
2.6/2.7/2.8(µmol/J)
Colour Rendering Index
80ra
Chip
2835/4000K/--600/1800/2400pcs
3030/660nm/--20/60/80pcs
Mounting Height
≥ 6" (15.2cm) Above Canopy
Ambient Temperature
-20°C~40°C
Dimming
0-10V/PWM/Timer Dimming
Light Distribution
120°
Lifetime
>50,000 hours
Power Factor
>0.95
Warranty
5 Years
IP Rating
IP65
MAX AMPERAGE BY VOLTAGE SERVICE
VOLTAGE
 
120V
230V
277V
347V
480V
AMPERAGE
200W
1.5A
0.83A
0.69A
0.55A
0.4A
600W/640W
4.75A
2.48A
2.06A
1.64A
1.19A
800W
6.3A
3.3A
2.75A
2.2A
1.59A
200W Dimensions
23.6" L x 19.6" W x 2.65" H
600mm L x 500mm W x 67.5mm H
600W/640W Dimensions
41.69" L x 41.49" W x 2.65" H
1059mm L x 1054mm W x 67.5mm H
800W Dimensions
41.69" L x 41.49" W x 2.65" H
1059mm L x 1054mm W x 67.5mm H
N.G(KG)
4/12/14kg
G.W (KG)
5/15/17kg
200W
Package Size
25.6" L x 10.23" W x 4.3" H
650mm L x 260mm W x 110mm H
600W/640W Package Size
42.91" L x 10.23" W x 5.51" H
1090mm L x 260mm W x 140mm H
800W
Package Size
42.91" L x 10.23" W x 5.51" H
1090mm L x 260mm W x 140mm H
Pcs/carton
1pcs
200W LED Grow Light - 2.8µmol/J PPFD LED Grow Light - Hydroponic cultivation LED - Full Spectrum Wavelength + Boosted Red - Commercial planting
Better design: The wonderful design brings more efficient plant cultivation, which is more efficient and consumes less energy than HPS and HID lights of the same wattage, while reducing packaging space by 70%.
Better lighting: Brings an ultra-wide spectrum from 400nm to 700nm, which can bring at least 2.6µmol/J of PPFD and 520µmol/s of PPF.
Less heat: Heat has always been the biggest headache for indoor growers. They worry that the grow light will bring super high heat, which will "baked" the plants. However, the heat generated by the LED is very small and can be installed Where plants are very close, maximize the use of your light.
Easier to use: The installation is very simple, even for novices, it takes less than 1 minute to install and use.
Easier management: Batch management can be carried out through the mobile phone management system, remote one-key dimming, and easy dimming from 0-10V according to your needs.
Tool Free Quick Installation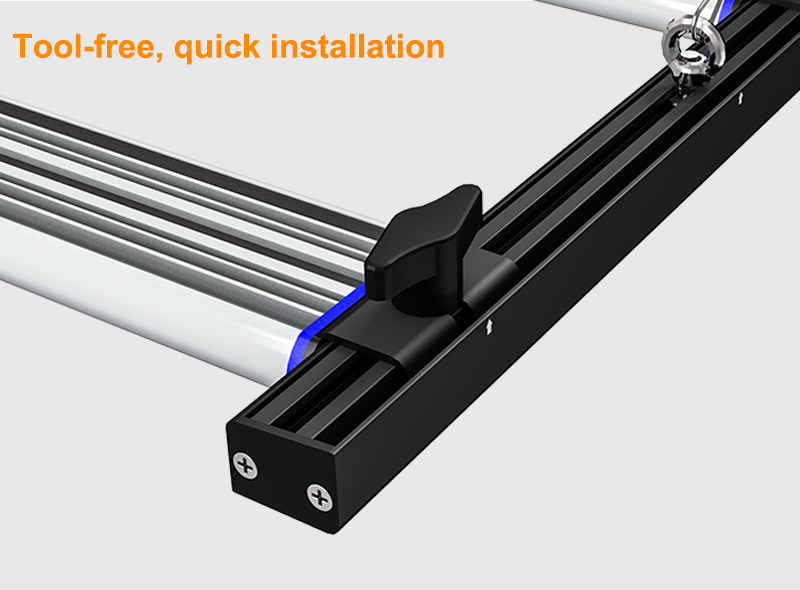 Detachable Power Supply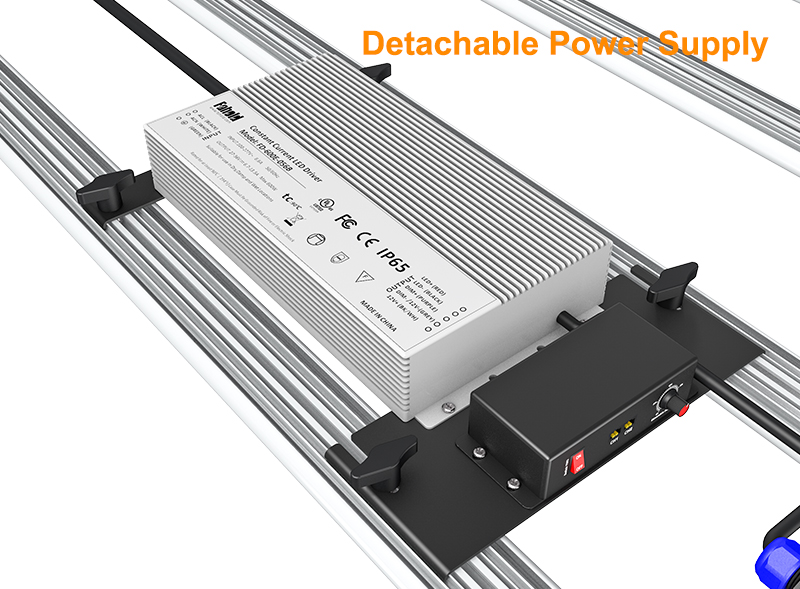 Support A Variety Of Intelligent Controls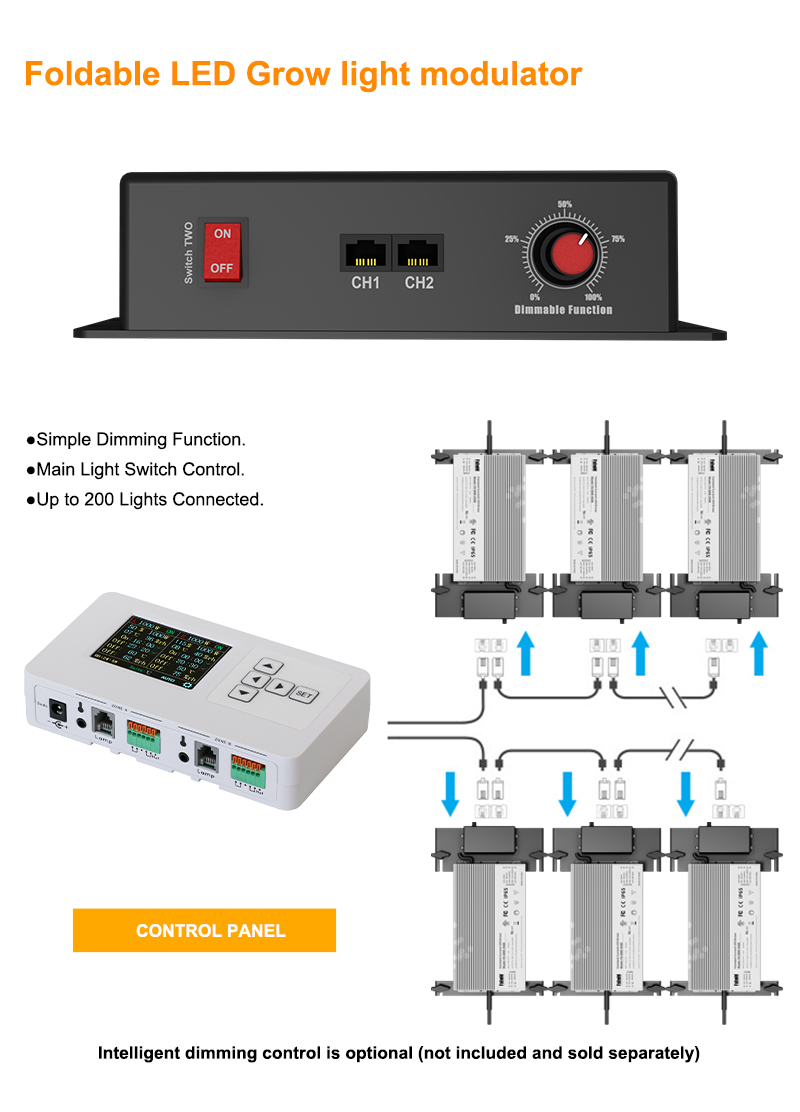 About HISHINE Group Limited
We are an enterprise focusing on R&D and manufacturing of LED products for 16 years. Continuous innovation is to provide better LED products to the world.
DIY LED Grow Light Applications
It is widely used in indoor planting, commercial planting, greenhouse, cloning room, tissue culture, seed propagation, indoor vegetable, gardening, hydroponic planting, etc.